"The Road Not Taken": A Reflective Poem by Robert Frost
"The Road Not Taken" is a mostly reflective poem written by Robert Frost. This poem is primarily about the choices one makes in life. Once someone makes a choice, it is usually for better or for worse, according to this poem. The poem utilizes symbolism as a reflective tool. For instance, the road is a symbol of the path of life. In this case, the speaker is reflective about which of the two roads to take (Dickinson et al. 1). If the speaker picks a road, all the privileges of other road are forfeited. The poet uses rhymes and rhythm to drive his point home.
The theme of this poem is universal. Almost everyone finds himself or herself in the speaker's position at some point in life. People will often find themselves with two equally attractive and uncertain options. The choice one picks shapes one's entire life. The speaker is wondering if, after all the time that has passed, there is a possibility of knowing what lay in the road not taken.
Every adult has to make life-changing decisions on a day-to-day basis. This fact makes the following poem to be relatable to its readers' day-to-day lives. To understand this point better, one can refer to the second line in the poem where the speaker laments of how impossible it is to take both options.
What makes the poem such a good read, is its heavy use of rhythm and rhymes. After reading this poem a few times, one can be able to recite it effortlessly. Right from the start, the poet uses catchy rhymes. For example, the first line of the first stanza rhymes with the third line. On the other hand, the second line rhymes with the fifth. This pattern is maintained throughout the poem, and this arouses the reader's curiosity whenever he/she is about to read the next line.
I can relate to the poem's message because some years ago, I found myself in a dilemma. I was faced with the decision of either ending a relationship with my significant other or pursue a long distance relationship. Each of these decisions was viable.
As the speaker puts it, the ones passing there had worn the roads about the same. In my case, there are examples of those who chose to take part in long distance relationships. There are also those who chose not to pursue long distance relationships. Like the speaker, I still wonder where the other choice would have led. However, I am happy with the decision I finally made. Like the speaker, I am saying this with relief (Dickinson et al. 16).
Even an inconsequential choice can change someone's life in a big way. This is the poem's central theme and message. However, the poem addresses the impact of making either of the choices. The title of the poem is "The Road Not Taken." Still, the poem explores the other option or the road that was taken.
Using rhymes and rhythm, the poet conveys his message skillfully. The basic argument is that even though one may be faced with difficult choices in life, one eventually has to pick a path and stick to it. The only thing one can do is to believe that the path he/she took was the right path.
Works Cited
Dickinson, Emily, et al. Four Major American Poets . Upper Saddle, NJ: Pearson Education, 2010. Print.
Cite this paper
Chicago (N-B)
Chicago (A-D)
StudyCorgi. (2023, November 9). "The Road Not Taken": A Reflective Poem by Robert Frost. Retrieved from https://studycorgi.com/the-road-not-taken-by-robert-frost/
StudyCorgi. (2023, November 9). "The Road Not Taken": A Reflective Poem by Robert Frost. https://studycorgi.com/the-road-not-taken-by-robert-frost/
""The Road Not Taken": A Reflective Poem by Robert Frost." StudyCorgi , 9 Nov. 2023, studycorgi.com/the-road-not-taken-by-robert-frost/.
1. StudyCorgi . ""The Road Not Taken": A Reflective Poem by Robert Frost." November 9, 2023. https://studycorgi.com/the-road-not-taken-by-robert-frost/.
Bibliography
StudyCorgi . ""The Road Not Taken": A Reflective Poem by Robert Frost." November 9, 2023. https://studycorgi.com/the-road-not-taken-by-robert-frost/.
StudyCorgi . 2023. ""The Road Not Taken": A Reflective Poem by Robert Frost." November 9, 2023. https://studycorgi.com/the-road-not-taken-by-robert-frost/.
StudyCorgi . (2023) '"The Road Not Taken": A Reflective Poem by Robert Frost'. 9 November.
This paper, ""The Road Not Taken": A Reflective Poem by Robert Frost", was written and voluntary submitted to our free essay database by a straight-A student. Please ensure you properly reference the paper if you're using it to write your assignment.
Before publication, the StudyCorgi editorial team proofread and checked the paper to make sure it meets the highest standards in terms of grammar, punctuation, style, fact accuracy, copyright issues, and inclusive language.
If you are the author of this paper and no longer wish to have it published on StudyCorgi, request the removal . Please use the " Donate your paper " form to submit an essay.
US Adult Literacy
An esol resource from university settlement's adult literacy program, reflections on "the road not taken".
Recently W3 students read the Robert Frost poem "The Road Not Taken" and wrote short essays about it. Read a couple below…
My Better Decision 
In November 2010, my best friend was in trouble. He was going through a very difficult time, and asked me for help. He was always there for me in my worst moments, he was always a support, and now he needed me.
I was living in another city, eight hours away from him. I asked for permission at my job, but my boss denied it. He really has been the worst boss I have ever had. 
So, I found myself between a rock and a hard place. I had two paths; one of them was to help my friend and lose my job, and the other path was, to keep my job and fail the person who had helped and supported me the most.
At the end, the balance tipped towards friendship.
I went to help my friend, and during that week that I was with him, I met who is now my current husband. He was on vacation in Honduras in those days.  It was love at first sight!!
From that day until today, I think that having taken that path has been one of the best decisions of my life. Having been loyal to a good friendship it rewards me with the life that I now have. I am not only married to a wonderful man who brought me to this great country, but also I had my lovely son with him. 
My life took a 360-degree turn, and I don't want to imagine what would have happened if I had chosen the other path. 
On Robert Frost's Poem
Robert Frost's poem, "The Road Not Taken," is a reflection of our lives because we are always faced with choices in our lives. Choosing between the forks in the road in the woods is like choosing between different directions in life.
When I was about 20 years old I was faced with two different paths in life, whether to stay in my native country, or to broaden my horizons by getting out of my country and continue my education. Finally, I chose to immigrate to the United States to study, which put me on a very different path than my friend. Using English as a language of study was an adventure for me.
Nowadays, I am struggling to finish my college assignments and trying hard to keep myself on track just like my other classmates, who are the native English speakers. I agree that no matter which path you take, you will always regret not taking the other one. Sometimes I wonder if the path of immigrating for education will lead to success at the end, or if I stay in my own country will be a better development of career. But I know I should not regret or complain, but I should take responsibility for my choice and do my best to finish this path I chose.
To read Robert Frost's poem, click here!
Leave a reply cancel reply.
This site uses Akismet to reduce spam. Learn how your comment data is processed .
Home — Essay Samples — Literature — The Road Not Taken — The Main Message In Robert Frost's The Road Not Taken

The Main Message in Robert Frost's The Road not Taken
Categories: Poetry Robert Frost The Road Not Taken
About this sample

Words: 931 |
Published: Feb 8, 2022
Words: 931 | Pages: 2 | 5 min read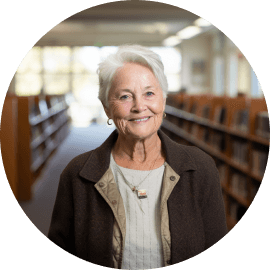 Cite this Essay
Let us write you an essay from scratch
450+ experts on 30 subjects ready to help
Custom essay delivered in as few as 3 hours
Get high-quality help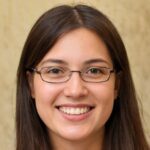 Verified writer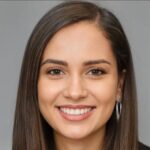 + 120 experts online
By clicking "Check Writers' Offers", you agree to our terms of service and privacy policy . We'll occasionally send you promo and account related email
No need to pay just yet!
Related Essays
1.5 pages / 674 words
4 pages / 1803 words
3 pages / 1264 words
2.5 pages / 1035 words
Remember! This is just a sample.
You can get your custom paper by one of our expert writers.
121 writers online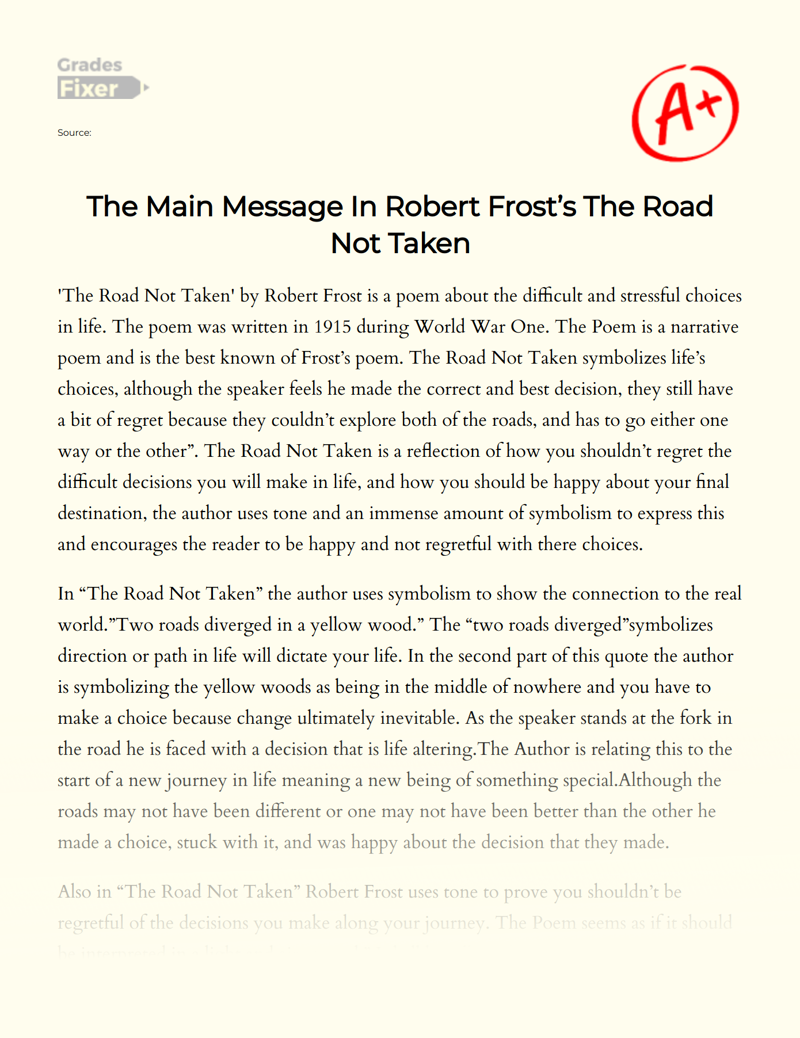 Still can't find what you need?
Browse our vast selection of original essay samples, each expertly formatted and styled
Related Essays on The Road Not Taken
"The Road Not Taken" by Robert Frost is one of the most anthologized, widely-read, beloved, and analyzed poems in the American canon. A short poem consisting of four stanzas of five lines each composed of simple direct language [...]
Every aspect of one's life is determined by the decisions he makes. Some are life altering, such as deciding what college to go to, while others are inconsequential, such as deciding what to have for breakfast in the morning. [...]
Robert Frost is admired not only for his world-renowned poem, "Road Not Taken," but also for his incredible symbolism and deep interpretation of life through nature. Written in the 1920s, "Road Not Taken" and "Stopping By Woods [...]
Robert Frost's work The Road Not Taken conveys a very simplistic, yet introspective theme. The poem describes the dilemmas and choices one must make in life, and how those specific decisions affect that person. Frost establishes [...]
The two poems written by Robert Frost that are going to be explicated are named "The Road Not Taken," written in 1916, and "Stopping by Woods on a Snowy Evening," in 1922. The purpose of the explication of these two poems is to [...]
"For he alone knew, what no other initiate knew, how easy it was to fast. It was the easiest thing in the world." Kafka's "A Hunger Artist" What does it mean to willfully fast, or to deny hunger, the most fundamental of [...]
Related Topics
By clicking "Send", you agree to our Terms of service and Privacy statement . We will occasionally send you account related emails.
Where do you want us to send this sample?
By clicking "Continue", you agree to our terms of service and privacy policy.
Be careful. This essay is not unique
This essay was donated by a student and is likely to have been used and submitted before
Download this Sample
Free samples may contain mistakes and not unique parts
Sorry, we could not paraphrase this essay. Our professional writers can rewrite it and get you a unique paper.
Please check your inbox.
We can write you a custom essay that will follow your exact instructions and meet the deadlines. Let's fix your grades together!
Get Your Personalized Essay in 3 Hours or Less!
We use cookies to personalyze your web-site experience. By continuing we'll assume you board with our cookie policy .
Instructions Followed To The Letter
Deadlines Met At Every Stage
Unique And Plagiarism Free
Save your essays here so you can locate them quickly!
Robert Frost
Iambic Pentameter
Philosophy Of Life
Poetic Form
The Road Not Taken 4 Pages 1062 Words
"The Road Not Taken" by Robert Frost is a narrative of a moment in the life of a man when he has a choice to make. "The Road Not Taken" is filled with symbolism. The literal setting of the poem is that of a man at a separation of paths in a yellow wood. He is not sure which path to take and realizes that he will probably never be able to come back and take the other one. Much of the difficulty in this choice lies in the fact that both paths are equally attractive to him. He eventually chooses to take the path that has not been traveled as often. The symbolism in the poem involves the use of two roads as symbols of the choices that are made in life and the options that one has to choose from. Metaphorically, a person's life can be compared to a journey. The person may know where they want to go but there is usually more than one way to get there. Therefore, there are choices to make in life as to which path one will take. Choices are often difficult because of the doubt as to what lies ahead. Sometimes the choices are made even more difficult because one choice seems to be as attractive as the other. In "The Road Not Taken," the choice is made more difficult still by the fact that both roads lead to the same place. They both diverge in the yellow wood but simply take different routes to get there. Frost wishes to travel both of the paths and "be one traveler" so that he can see which choice is really the better one. The perceptions that a person has are seen in verse two when the author says "Though as for that the passing there Had worn them really about the same." The traveler saw one road as being less traveled although both of them were really about the same. The author speaks of looking down the roads as far as he could to try to see what lies ahead of him. The undergrowth in the one path represents the future and the fact that one cannot know what lies ahead. There a...
Continue reading this essay Continue reading
Page 1 of 4
More Essays: