We deliver locally and provide international shipping to all countries!
Earn OSB Reward Points for discounts off your next order!
Prices in Singapore Dollars
Enjoy higher discounts here on OpenSchoolbag.com.sg!

20% Off SG Orders Above $20 Excluding sale and promotional items
Check out our New Release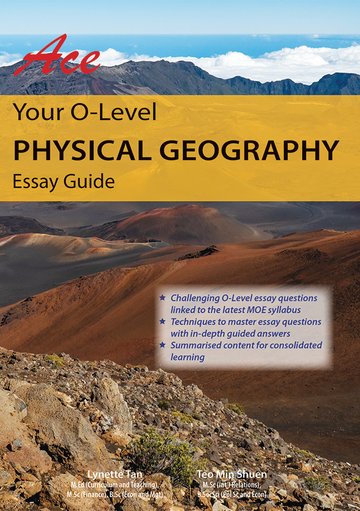 Ace Your O-Level Physical Geography: Essay Guide:
Ace Your O-Level Physical Geography – Essay Guide has been written in accordance with the latest syllabus taught by the Ministry of Education, Singapore. The book focuses on the essay techniques and effective ways to answer Physical Geography questions. Questions in this book are set to be more challenging so that students can gain insights to answering questions that are more difficult. Using a step-by-step explanation guide with suggested phrasing of answers, the book aims to help students master the skills of effectively structuring their essay answers to obtain maximum marks. Ultimately, it hopes to strengthen students' foundation in Physical Geography essay writing and enable them to independently develop their own answers.
The book serves as a guide to both teachers and students preparing for the O Level Pure Geography and Elective Geography Examinations (Physical Geography) and is suitable for students taking both Pure and Elective Geography. The book is divided into 4 Chapters and covers the topics: (i) Essay Writing Skills; (ii) Coasts; (iii) Weather and Climate; and (iv) Living with Tectonic Hazards. This book complements the O Level Geography Essay Guide (Human Geography).
ISBN: 9789814996181
We will not be responsible for lost mails or damages for orders by normal mail option.
No refunds or returns after purchase.
stock availability.
You must contact us to raise your request within 5 working days from receipt of your order.
Before returning or making an exchange, you are required to send us photos of the exchange products before sending out to us.
Item to be returned must reach us within 5 working days from our email confirmation to you on the exchange arrangement.
Item to be returned has to be in original new condition . We encourage courier or office drop-off.
All returns are to be arranged at your own cost. We will not be responsible for damage in transit.
Please see full terms & conditions
GCE O Levels
Mathematics
Social Studies
GCE A Levels
Biology (H1, H2)
Chemistry (H1, H2)
Chemistry (H3)
Economics (H1, H2)
French (H2)
General Paper (H1)
History (International) (H1, H2)
History (Southeast Asia) (H2)
Knowledge & Inquiry (H2)
Mathematics (H1, H2)
Physics (H1, H2)
Literature (H1, H2)
Economics (H3)
Art (H1, H2)
Geography (H1, H2)
English Language & Linguistics (H2)
International Baccalaureate
Biology (SL,HL)
Chemistry (SL,HL)
Physics (SL,HL)
English A (SL,HL)
Economics (SL, HL)
History (SL,HL)
Chinese B (SL)
Coming Soon
Advanced Placement
Old Version
Customer login
Not registered yet?
Register now ! It is easy and done in 1 minute and gives you access to special discounts and much more!
Search results
Refine search, notify me when new resources are added.
© Tick 2022
Template by Bootstrapious & Remote Please
Our Programmes
Our Collaborations
Our Partners
Share Resource
Get Involved
Login / Register
2.7 Geography essay structure
Description.
A guide to writing geography essays, with practice questions. Used with permission.
Language:  English
Skill Level:  Intermediate
Geography Secondary 1 Secondary 2 Secondary 3 Secondary 4 O Levels
Downloads:  331
I am a firm believer in Open Education - which is making as much educational content free to as many people as possible. I will share as much educational resources as I can! =) Please click "FOLLOW ME" on my profile to be notified of my latest downloads.
No reviews yet.
Also recommended for you
Geography cheatsheet pt2, njc sec 2 geography essay examples (floods), geography flash cards, urbanisation (lower sec), geography notes on floods, rgs y2 geog notes, year 2 geography notes -- plate tectonics, geography notes, rgs y3 geog - settlement studies, coastal landforms, geography 2012 compressed.
Geography - Ordinary
A big and diverse course, if you are comfortable writing essays this is a subject for you.
With seven or more essays to be written, timing is crucial in the written exam. It's really important that you keep an eye on the clock and avoid the temptation to run over time perfecting one essay at the cost of not finishing your last question. The examiner will be looking for SRPs (single relevant points) in your essay. A SRP can be described as a "single meaty statement", a sentence or paragraph with one clear and true point. At higher level, an SRP is worth 2 marks so a typical 30-mark essay will need at least 15 SRPs. The Geographical Investigation is usually submitted in April of 6th year and is worth 20% of the final grade. 
Higher Level Course Content:
Aerial photos
Earthquakes & Volcanoes
Economic - Developing Economies
Economic - Energy
Economic - Environmental impact
Economic - European Union
Economic - Multinationals & Globalisation
Elective - Economic
Elective - Human
Human - Population
Human - Urban Geography
Karst Regions
Option - Atmosphere & Ocean
Option - Culture & Identity
Option - Geoecology
Option - Global Interdependence
Plate Tectonics
PROJECT - Investigation
Regions - Continental
Regions - European
Regions - Ireland
Rocks, Weathering & Mass Movement
Tables/Graphs Questions
Urban Land uses
Weather & Climate
Ordinary Level Course Content:
Economic - Ireland & the EU
Graph style questions
Geographical Investigation Report (20%)
Written Examination (80%)
There is one written paper for both Higher and Ordinary levels, which lasts for 2 hours and 50 minutes. There are three parts to the written paper. 
Twelve short questions where you will be marked out of your best ten. (25 mins, 80 marks)
Essay style questions where you have a choice of ONE question from three in each section. Spend no more than 30 mins on each question (80 marks).
Section 1: Physical Geography (Q1, Q2, Q3 - Pick one)
Section 2: Regional Geography (Q4, Q5, Q6 - Pick one)
Section 3: Human Elective (Q7, Q8, Q9 - Pick one) OR Economic Elective (Q10, Q11, Q12 - Pick one)
Section 4: Options (Questions 13-24) - Higher level only. You will be given 4 questions on your chosen option and you pick one. Each question will require you to write a single longer essay where you discuss three or four aspects of the theme in detail in 30 minutes (80 marks)
Geographical Investigation Report
The SEC will publish a list of topics and students will report on a geographical investigation based on one of these topics. 
Future Careers with Leaving Certificate Geography
Some Universities accept Geography as a Science subject. Future careers include; Earth Scientist, Planner, Environmental Science, and Fishing Industry.
Download the Leaving Cert Geography Syllabus
Download the Leaving Cert Geography Chief Examiner's Report (2012) 
Download the Leaving Cert Geography Guidlines for Teachers
Past Papers
Community activity.

Published by: Tutor City
June 03, 2020
O Level Geography: Improve From F to A With Our 6 Easy Steps
Why is O level Geography difficult to score? Crafting a good geography essay require critical thinking skills and content knowledge ; Something most students in Singapore find it difficult to master. We have summarised 6 key strategies on how to score A for Geography from our top Geography teachers around Singapore:
1. Knowing the exam format and requirements First of all, you need to familiarise with the exam format, which includes knowing the structure of the paper and how many marks are in each section. This will help you with time management in the Geography exam; you can allocate time more effectively for each section so that you don't end up spending too much time on one and end up not finishing another. For O-level Geography, these are the 2 papers: 
 [ Paper 1 ] - 2 sections of structured questions, 50% of the total score Section A is a compulsory question on Geographical investigations based on the topics Coasts / Global Tourism. Advised to spend 55 minutes here and its worth 25 marks. Section B are 2 structured questions of the same topics where you choose 1 of it. Advised to spend 45 minutes here and its worth 25 marks. Total Duration = 1 hour 40 minutes [ Paper 2 ] - 2 sections of structured questions, 50% of the total score Section A has 2 questions and you choose 1 of it, the topics are based on Living with Techtonic Hazards / Variable Weather and Changing Climate. Advised to spend 45 minutes here and its worth 25 marks. Sec Section B has 2 questions and you choose 1 of it, the topics are based on Food Resources / Health and Diseases. Advised to spend 45 minutes here and its worth 25 marks. Sec Total Duration = 1 hour 30 minutes
2. Customised notes Many teachers and schools usually provide notes that can be very helpful when you are revising your work, however these are usually large piles of papers and it is almost impossible to memorise them. It is recommended that every Secondary student should create their own customised notes . You don't have to be an artist and make notes like how 'professional graphic writers do', neither do you need an iPad and an Apple pencil to do it.
A piece of paper, a pen, and a highlighter will suffice.
You can get some ideas from YouTube that teaches you how they take notes and most of the time they would print out their notes and have nice handwriting. As long as you can read it, it doesn't matter about how bad your handwriting is. Another good point about creating your own notes mean that you can means that you can start from wherever you want and build up the way you like it to the end . Another benefit of having your own notes means is that you can make it portable and have a glance at it right at any time or even before you enter the exam room.
3. Improve your English & Argumentative skills
You must learn how to reason, persuade and argue constructively . Not just memorise and list out everything on what you recall. Every question is different, so you need to customise your arguments to fit into the essay. Polish Your English - Watch your grammar and spelling. Improve your tone, diction, sentence structure. You wouldn't want to lose marks from a misspelled word or poor grammar that has another meaning that misleads the examiner.
4. Asking a Geography expert to help Once you have identified what are your weak points and what topics you have difficulties in, get someone to help you sort out your doubts. You need time to prepare for your O-level Geography examination and getting your doubts cleared help you revise better when you make notes too. You can also ask your school teachers for help if they have time after school hours. They know the subject the most and they know how to effectively help you since they see you week in week out.
If you are in a lockdown or you can't get in touch with your teachers then your friends are next. Your friends also study the same topics as you so even though they might not be able to teach you as well, they would be your next move. If they cannot help you, seeking help from free online resources would be next, or asking your parents. I mentioned parents the last because unless they are a Geography tutor , they wouldn't be able to accurately help you and guide you to an A1.
5. Sleep Sleep is very important, especially for Geography where you have to recall many facts, data and names of geographical locations. I recommend that you get 8 hours of sleep so that your mind has enough time to store all the information, make notes and digest the definitions or names of places. If you are constantly sleeping for only 5 or 6 hours a day, taking a big leap to 8 hours a day is not good. It is better to slowly adjust over some time so that you get use to it. Moving forward your bedtime by 10 minutes a day is acceptable. Read this article to learn more on how much sleep do you actually need .
6. Be healthy You must regular meals at so that you don't get distracted by hunger when studying, and also drink lots of water. 8 to 10 glasses should be sufficient , you wouldn't want to get dehydrated and faint during your exam. Another tip is to eat plenty of fruits and vegetables to get enough fibre and daily bowel movement. Do regular exercise to keep metabolism up and a good run often gives you a fresh mind later on. Exercising at least 3 times a week is a good way to keep healthy.
These 6 ways can help you do better in your O-level Geography examinations . Follow these steps to get the desired grade you want for the O levels. Good luck!
Tutor City's blog focuses on balancing informative and relevant content, never at the expense of providing an enriching read. We want our readers to expand their horizons by learning more and find meaning to what they learn. Resident author - Mr Wee Ben Sen, has a wealth of experience in crafting articles to provide valuable insights in the field of private education. Ben Sen has also been running Tutor City, a leading home tuition agency in Singapore since 2010.
5 Fun Things To Do At The STEAM Festival 2023
Student Accommodation in Singapore: 10 Reasons Why You Need It
10 Avenues for Pursuing Lifelong Learning in Singapore
Top Universities in Singapore 2023: Reviews and Rankings
Best 10 Private Universities in Singapore To Get Your Degree
Best 10 Educational TikTok Accounts For Your Child
Parenting (65)
Education (297)
Career (42)
Technology (46)
Lifestyle (57)