Reports and essays: key differences
Know what to expect
Explore the main differences between reports and essays and how to write for your assignments.
You'll complete assignments with different requirements throughout your degree, so it's important to understand what you need to do for each of them. Here we explore the key differences between reports and essays. 
This page describes general features of academic reports and essays. Depending on your subject you may use all of these features, a selection of them, or you may have additional requirements. 
There is no single right way to write a report or essay, but they are different assignments. At a glance: 
Reports depend heavily on your subject and the type of report.
Essays usually have specific content and a planned structure with a focus on sense and flow. You subject might need different types of information in your introduction –  some disciplines include a short background and context here, while others begin their discussion, discuss their resources or briefly signpost the topic.
Differences between reports and essays
This table compares reports and essays and provides an outline of the standard structure for each. Your assignment will also depend on your discipline, the purpose of your work, and your audience – so you should check what you need to do in your course and module handbooks, instructions from your lecturer, and your subject conventions.
Table adapted from Cottrell, 2003, p. 209.
The structure of reports
Most reports use an IMRaD structure: Introduction, Methods, Results and Discussion.
Below are some common sections that also appear in reports. Some sections include alternative headings.
1. Table of contents
Your contents shows the number of each report section, its title, page number and any sub-sections. Sub-section numbers and details start under the section title, not the margin or the number.
2. Abstract or Executive summary
This brief summary of the report is usually the last thing you write.
3. Introduction
Your introduction describes the purpose of the report, explains why it necessary or useful, and sets out its precise aims and objectives.
4. Literature review
This describes current research and thinking about the problem or research question, and is often incorporated into the introduction.
5. Methods or Methodology
This describes and justifies the methods or processes used to collect your data.
6. Results or Findings
This section presents the results (or processed data) from the research and may consist of mainly tables, charts and or diagrams.
7. Discussion, or Analysis, or Interpretation
This section analyses the results and evaluates the research carried out.
8. Conclusion
The conclusion summarises the report and usually revisits the aims and objectives.
9. Recommendations
In this section the writer uses the results and conclusions from the report to make practical suggestions about a problem or issue. This may not be required.
10. Appendices
You can include raw data or materials that your report refers to in the appendix, if you need to. The data is often presented as charts, diagrams and tables. Each item should be numbered : for example, write Table 1 and its title; Table 2 and its title, and so on as needed.
Structure of essays
Introduction.
Your essay introduction contextualises and gives background information about the topic or questions being discussed, and sets out what the essay is going to cover.
Your essay body is divided into paragraphs. These paragraphs help make a continuous, flowing text.
The conclusion summarises the main points made in the essay. Avoid introducing new information in your conclusion.
Bibliography or Reference list
This is a list of the resources you've used in your essay. This is usually presented alphabetically by authors' surname.
Reference for the Table of Distinctions above: 
Cottrell, S. (2003).  The Study Skills Handbook  (2nd ed.). Basingstoke: Palgrave.
Download our report and essay differences revision sheet
Download this page as a PDF for your report and essay revision notes.
Key features of academic reports
Basic essay structure
Writing clear sentences
Find an undergraduate or postgraduate degree course that suits you at Portsmouth.
Guidance and support
Find out about the guidance and support you'll get if you need a helping hand with academic life – or life in general – when you study with us at Portsmouth.
Know the Differences & Comparisons
Difference Between Essay and Report
Last updated on February 29, 2020 by Surbhi S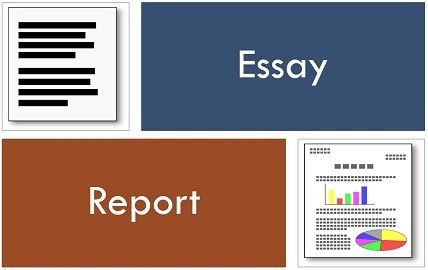 On the other hand, an essay can be understood as a piece of writing, on a specific topic or subject, which expresses the author's own ideas and knowledge about the subject.
The basic difference between essay and report is that while an essay is argumentative and idea-based, reports are informative and fact-based. Now, let us move further to understand some more points of differences.
Content: Essay Vs Report
Comparison chart, definition of essay.
An essay can be understood as a comprehensive literary composition, written in a narrative style and presents a particular topic, supports an argument and highlights the writer's view or ideology. An essay is used to check a person's outlook and understanding on specific matters and also his/her ability to describe and argue in a way which convinces the reader or informs him/her about a specific topic.
One can make use of learned materials, along with his/her own research, to write an essay effectively. It includes both narrative and subjective thoughts. Further, an essay supports a single idea at a time, for which several components need to be covered in it so as to appear logical and chronological.
It can be a learned argument, observation of day to day life, literary criticism, political manifestos, recollections, and reflections of the writer. It starts with a question and attempts to answer or give suggestions to the problem, on the basis of the existing theories or the writer's personal opinion and assessment.
While writing an essay, it must be kept in mind that the approach used by the writer should be positive, even if the topic of argument is negative.
Definition of Report
The report implies a well structured factual document which is created and presented after conducting an independent enquiry, research or investigation on a specific subject. It serves as a basis for problem-solving and decision making.
Reports are prepared for a definite purpose and contain relevant information in a proper format, for a particular audience. It is used to identify, observe and analyse the issues, events, findings, that occurred practically, i.e. in real life.
A report is designed with the aim of informing the reader about the event, situation or issue, in a very simple and objective manner, while enabling them to get the desired information quickly and easily. It provides recommendations for future actions. Information collected from research, or from carrying out a project work is presented in a clear and concise manner, under a set of headings and subheadings, that helps the reader to get the desired information quickly and easily.
Characteristics of an Ideal Report
It must be clear and concise.
It is written in easy language which the readers can understand easily.
It has to be appropriate and accurate.
It should be well drafted and organised, with specific sections, headings and sub-headings.
A report summary can be provided orally, however detailed reports are usually in the form of written documents. It contains – Title Page, Acknowledgement, Authorization Letter, Table of Contents, Executive Summary, Introduction, Discussion, Results, Conclusion, Recommendations and References.
Moreover, Cover letter, Copyright notice, Bibliography, Glossary and Appendices may also form part of a report.
Key Differences Between Essay and Report
The difference Between report and essay is discussed here in detail:
An essay is a brief literary composition, which is used to describe, present, argue, and analyse the idea or topic. Conversely, a report is a formal and concise document consisting of findings from the practical research. It aims at investigating and exploring the problem under study.
An essay is written on the basis of subjective analysis of theories and past research, by other people and own ideas, on the concerned subject. As against, a report is objective and factual, which is based on past research, as well as present data and findings.
An essay talks about general facts and events along with the writer's personal ideas and views, on the topic in a non-fictional manner. On the contrary, a report contains information which the reader can use to identify the facts or support in decision making or solving issues if any.
When it comes to sections, a report usually contains different sections, with catchy headings which may attract the attention of the audience. As against, an essay does not have any section, its flow is continuous. However, it is divided into cohesive paragraphs.
A report uses tables, charts, graphs, diagrams, statistics and many more for a clear and better presentation of the information. But, in the case of essays, they are not used.
The conclusion in an essay is based on the writer's personal opinion and views on the topic itself which must be optimistic, and it does not provide any recommendations for future actions. On the other hand, a report gives an independent conclusion, but it may contain the opinion of the experts or previous researchers and recommendations are included, about how the research can be improved and extended.
In a nutshell, Essays are descriptive, subjective and evaluative, whereas, a report is descriptive, objective and analytical. Essays are mainly used in an academic context, whereas reports are preferred in the field of research.
The report is used to present the researched information in a written format, to the audience. Conversely, essays are used to identify what the writer knows about the topic and how well the writer understand the question.
Related Differences
Difference Between Above and Over
Difference Between Cash Accounting and Accrual Accounting
Difference Between Array and ArrayList in C#
Difference Between Much and Many
Difference Between Probation and Parole
You Might Also Like: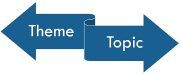 Anna H. Smith says
November 26, 2020 at 3:22 pm
Thank you for explaining this so eloquently. Excellent post, I will keep this handy and refer to it often from now on, the information is so clear and so insightful, thanks for giving a clear difference. It's a very educative article.!
Presley Dube says
November 20, 2021 at 3:43 pm
very useful to me thank you.
Leonard says
August 8, 2022 at 2:52 pm
Thanks for sharing such nice information about this topic.
Ignatius Phiri says
March 20, 2023 at 10:39 pm
Leave a Reply Cancel reply
Your email address will not be published. Required fields are marked *
Save my name, email, and website in this browser for the next time I comment.
RMIT Australia
RMIT Europe
RMIT Vietnam
RMIT Global
RMIT Online
Alumni & Giving
What will I do?
What will I need?
Who will help me?
About the institution
New to university?
Studying efficiently
Time management
Mind mapping
Note-taking
Reading skills
Argument analysis
Preparing for assessment
Critical thinking and argument analysis
Online learning skills
Starting my first assignment
Researching your assignment
What is referencing?
Understanding citations
When referencing isn't needed
Paraphrasing
Summarising
Synthesising
Integrating ideas with reporting words
Referencing with Easy Cite
Getting help with referencing
Acting with academic integrity
Artificial intelligence tools
Understanding your audience
Writing for coursework
Literature review
Academic style
Writing for the workplace
Spelling tips
Writing paragraphs
Writing sentences
Academic word lists
Annotated bibliographies
Artist statement
Case studies
Creating effective poster presentations
Essays, Reports, Reflective Writing
Law assessments
Oral presentations
Reflective writing
Art and design
Critical thinking
Maths and statistics
Sustainability
Educators' guide
Learning Lab content in context
Latest updates
Students Alumni & Giving Staff Library
Learning Lab
Getting started at uni, study skills, referencing.
When referencing isn't needed
Integrating ideas
Writing and assessments
Critical reading
Poster presentations
Postgraduate report writing
Subject areas
For educators.
Educators' guide
Reports vs essays
Students are sometimes unclear about different genres of assessment tasks.
Students often ask the question "What is the difference between a report and an essay?" This short video explains what a report is in academic writing, how it is used in different situations, and the structure of a report including executive summary, introduction, findings and conclusion.
What is a report?
A report is a piece of writing that tells you about some experience, event, or situation. This could include just doing research on some topic, a practical experiment, some issue that has arisen in a company/organisation, or a system, or even a piece of equipment, maybe.
Reports are often problem-based, but not always. It describes what you have found out, and it goes deeper - it explains and analyses what you have found out. Reports are very structured and there is an expected format. They always have sections and headings.
Have a look at this report outline:
"The aim of this report was to investigate Unilab staff attitudes to the use of mobile phones in staff and team meetings. A staff survey and policies on mobile phone use from a number of similar companies were analysed. There was significant support for a clear company policy on mobile phone use, including their banning in certain situations. The results of this research reflected the findings from similar studies. The report concluded that personal mobile phones should not be turned on during all staff meeting times."
Most reports have executive summaries. In some disciplines, we call it an "abstract". They are not the same as the introduction. An executive summary summarises the whole report. That means that there will be a sentence or two representing each section of the report. You always write it after you have completed the full report. Have a look at how the writer summarises each main section in one sentence (refer to executive summary above). As you can see, it's got a very definite structure drawn from the larger report. It is very different to the introduction which just talks about the broad context, the purpose of the report, and what is going to be covered in the following sections. It gives the reader an idea of what is ahead – it does not give the overview like the executive summary.
The other important sections are the Findings and Discussion. This is where you would describe and then analyse your findings. Your findings will be reporting what you have discovered during your research, or your experiment, or an observation you have made. In the discussion section, you must delve deeper: you have to analyse and make sense of these findings and not just state what they are.
Finally, in the conclusion, you summarise your findings or use your findings or to come out with a more unified understanding or outcome. In some disciplines like business, you might be asked to give solutions or recommendations to overcome a problem that you have noticed. Recommendations might have their own section or be included in the conclusion, too.
For more information about reports, try the tutorials. Thanks for watching!
The table below shows the main differences between reports and essays.
Provides objective information: Can be constructed collaboratively.
Highly structured into sections identified using headings.
Sections can be read in isolation of the most of the text: the reader can dip in and out.
Objective report and analysis of facts.
Grounded in practice but often links to theory.
For a specific audience.
Includes tables, graphs and diagrams.
Dot points used for conciseness.
Presents a particular writer's claim or argument.
Structured by paragraphing with key points identified in topic sentences.
Paragraphs are read in the context of the whole: the reader starts at the beginning and reads the entire text.
Subjective argument or interpretation.
Grounded in theory but sometimes linked to practice.
For a generalised audience.
Meaning is conveyed through text.
Meaning constructed through sentences.
Purpose of reports and sources to use
Overall structure of a report
Sample report structures
Still can't find what you need?
The RMIT University Library provides study support , one-on-one consultations and peer mentoring to RMIT students.
Facebook (opens in a new window)
Twitter (opens in a new window)
Instagram (opens in a new window)
Linkedin (opens in a new window)
YouTube (opens in a new window)
Weibo (opens in a new window)
Copyright © 2022 RMIT University |
Accessibility |
Learning Lab feedback |
Complaints |
ABN 49 781 030 034 |
CRICOS provider number: 00122A |
RTO Code: 3046 |
Open Universities Australia
English for University
Academic English skills for international students
What is the difference between a report and an essay?
What is the difference between a report and an essay? Good question! If I had a pound every time a student had asked me that question I'd be a rich man!
There are important differences in format (the way they are laid out) but the most important thing to realise is the difference in purpose: a report is to inform the reader and make recommendations and an essay is an academic exercise.
Look at my example academic essay on the death penalty here .
Look at a real report on the Impact of Universities on the UK Economy here.
Comments are closed.

Glasgow School for Business and Society
The Glasgow School for Business and Society integrates the areas of business, law and social sciences to ensure that they are well placed to meet the needs of business and society. The School has an international outlook and is committed to developing partnerships across the world.
How does an essay differ from a report?
Essays and reports differ in terms of layout and focus
Essays traditionally, don't have headings; instead writers develop and sustain an extended argument throughout the text, moving from logically connected paragraphs to create a text that makes sense to the reader. Nowadays it is fairly common for students to use headings and sub-headings in essays if it makes sense to do so. However, your lecturer may have a layout preference for essays without headings, so if you're not sure check with your lecturer or module handbook.
Reports are divided into sections with headings and sub-headings so that the reader can find specific information easily. Business reports often present information visually using graphs, tables and diagrams. Your module handbook will often give you a structure to follow.
An essay tends to focus on concepts, issues and/or theory. The focus of a report is more concrete: the report looks at an issue in a real-world context. Essays, especially business essays, often use real-world examples to illustrate a concept or theory but a conceptual, or abstract, idea is the focus. Business reports often focus on a case study organisation and draw on relevant literature to understand the company.
However essays and reports are similar in many ways. They both:
Require critical reading of relevant literature
Integrate ideas from the literature into the text
Demonstrate critical analysis
Have a clear structure, written in paragraphs
Are written in an academic style
Cite and reference sources using Harvard
Something went wrong. Wait a moment and try again.

Home » Language » Difference Between Essay and Report
Difference Between Essay and Report
Main difference – essay vs report.
Essay and report writing is an area that confuses many people .  Despite having some similarities, they both are written in different styles. Both Essays and Reports must be written in a formal academic style while carefully checking grammar, spelling, and presentations. There are some common features in essay and report writing as both start with an introduction, body with discussions and analysis, and finally conclusions that demonstrate writer's analytical thinking ability. However, there are some significant differences between Essays and Reports, and writers should be well aware of these differences before starting to write. The main difference between these two types of writings is their purpose ; an essay presents writer's personal ideas and opinions about a certain topic while a report provides unbiased information about a certain issue.
What is an Essay
Essay is a piece of writing that describes, analyzes and evaluates a certain topic or an issue . An essay generally contains a combination of facts, statistics and writer's personal view and opinions. An  essay can be categorized into various types, depending on the nature of the title and the style of the author. Descriptive, Narrative, Argumentative, Persuasive, and Expository are some of these types of Essays. Though there is no strict format for essay writing, an essay generally includes an introduction, body, and conclusion. Essays are mostly used in the field of Education and are usually about academic subjects.
What are the Different Types of Essays
How to write an essay, what is a report.
A report is a systematic, well-organised document that defines and analyses a certain issue or a problem . The primary aim of a report is to provide information. A report is divided into several sections, headings, and sub-headings. A report is divided into sections in this manner so that anyone can scan the document and find quickly, the specific information he/she needs. Reports are used in different fields, and various types of reports written for different purposes can be found in our day to day life. Reports are generally written for practical purposes. Academic reports, Business reports, Laboratory reports are examples of such reports. Another significant feature that can be observed in a report is that the writer indicates recommendations,  solutions to the issue at the end of the report. Graphs, tables, sentences in bullet points can also be used in report writing.
Let us now look at the difference between essay and report separately. One of the main difference between essay and report is the purpose. An essay is written to present writer's personal ideas and opinions while a report is written to provide information about a certain issue. Another significant difference between essay and report is the format. A report is divided into sections, headings, and sub-headings, but an essay is never divided into sections and headings; it has interconnecting paragraphs. The conclusion of a report is unbiased and recommendations are provided at the end while the conclusion of an essay depends heavily on the opinion of the author. A report contains graphs and tables while an essay rarely contains graphs and tables. An appendix can be attached to the report for further reference. One of the most efficient features of a report, is that  the information can be found quickly by scanning the headings and sections but, in an essay, it is difficult to find a specific information without reading the whole essay.
About the Author: Hasa
Hasanthi is a seasoned content writer and editor with over 8 years of experience. Armed with a BA degree in English and a knack for digital marketing, she explores her passions for literature, history, culture, and food through her engaging and informative writing.
​You May Also Like These