Essay on Poverty in English (1000 Words)
Poverty is one of the worst forms of Violence said- the father of our nation Mahatma Gandhi. But what is Poverty?
Poverty is defined as a condition where the basic needs of a family or a person like food, shelter, clothing, and education. Poverty can lead to many huge problems like less literacy rate, unemployment, malnutrition, and many more.
As someone from a poor family won't have enough money to study therefore remain uneducated and unemployed in society. As an unemployed person, he won't have enough money to buy proper food or meals for their survival which leads to Malnutrition.
So we can say that poverty is the main reason behind all these problems that a person faces in their life.
How is poverty measured in the USA?
In the USA, poverty is measured by comparing an individual's or family's income to a set of minimum amounts needed for their basic living. The people whose income is below the set of basic needs are considered poor according to the U.S. Census Bureau. Now let us see a few top reasons that cause poverty.
1. Absence of good employment/job development.
This is one of the main and biggest reasons that causes poverty. When you don't have a job that pays you well you automatically fall below the minimum wage. As in many countries, traditional jobs like farming are vanishing. It is hard for uneducated people to find jobs for themselves.
2. Lack of education/uneducated.
The second important reason that causes poverty is Education. Poverty is a cycle that starts and ends with Education. According to the UNESCO report, it was found that over 170 million people would be poverty-free if they are provided with proper education.
3. Less or no access to nutritious food.
It was found that currently, 2 billion people don't have the access to clean water to drink and over 800 +million people are suffering from hunger. As they are the basic needs that a human survival needs, it becomes hard without them. Without food and water, they can't work or earn money for themselves, which eventually makes them poor again.
4. InEquality.
Inequality is a simple and complex point here. It is easy to understand but difficult when it comes to the laws and rights of humans. When a group of people has less or fewer rights and resources compared to others in the society or community is known as inequality. It can be based on caste, age, health, ability, and gender.
5. Climate changes.
Yes, Climate change will also show an impact on poverty. If you are someone who has to work daily to make both ends meet then you will know that climate change is more crucial. It was found that 100 million people would be pushed into poverty due to climate changes and crises.
It can also show an impact on farming, hunting, and gathering food.
What Are the Disadvantages of Being Poor?
There are many disadvantages of being poor. You can see a few of them below.
1. Low self-esteem.
Many people look down on the poor. They have the assumption that the poor are lazy, useless, and many. They feel ashamed of being poor.
2. Health conditions:
When you are poor it is obvious that you don't get enough money and proper food. This leads to malnutrition and many other health issues. Sometimes you might also go for calories instead of nutrition which leads to weight gain and related health problems.
3. Restricted Network.
At the point when you are poor, you will often have a limited network/organization. Poor people like or tend to live around with people of their community or mingle with the other poor people. These individuals can't help you especially since they are barely attempting to earn a living wage for themselves. They also do not have the right skills and community to assist with defeating poverty.
4. No Role Models.
It is harder than you imagine to get out of this poverty situation. The main reason is they don't have any motivation or role models to show what they have to do. They will see no one in their community buying what they like, doing their favorite job, and many more. So they don't see hope to get out of that poverty.
Poverty also causes stress. As the members in a family have to sacrifice things for one another it leads to a pile of stress that is being accumulated. You can see a lot of people arguing over little things and little topics in poor families as they can't afford them.
Frequently Asked Question:
Ending poverty is not something that can be done in a day or two. It at least takes more than a decade to put an end to all the poverty in the community you live in. Below given are a few of the ways that show how to end poverty.
Quality Education can eradicate poverty.
Taking proper health care can help in reducing poverty.
Water and sanitation also plays an important role in eradicating poverty.
Economic security
Child participation.
How can Quality education reduce poverty?
The first and more important thing that an individual needs to end poverty is quality education. Education gives knowledge and skills to children that help them realize what they want in their life and their potential. Studying can help them get a better job which leads to a better life.
Taking care of health is also one of the primary things. If you are unwell you can't attend a school or go to work which again leads to poverty and zero money.
Does everyone have access to Water and Sanitation?
Water and sanitation are also the main things that an individual needs. Having access to clean water and proper sanitation can improve and give you hope for a better life.
Finally, Poverty is not an individual problem, but the whole nation. It should be dealt with in effective ways and faster methods. The government has to take care of the needs and understand their vision and support poor people. Poverty eradication is necessary for the sustainable growth of the people, community, and country.
I'm a former teacher with a background in child development and a passion for creating engaging and educational activities for children. I strongly understand child development and know how to create activities to help children learn and grow. Spare time, I enjoy spending time with my family, reading, and volunteering in my community.
Join our active Facebook group for creative and fun activities, games, and other child development ideas.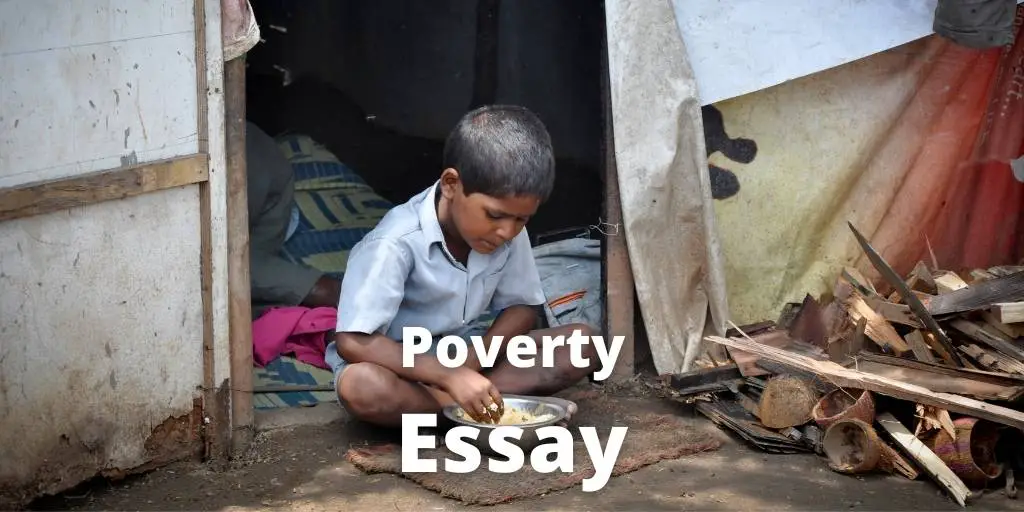 Poverty Essay in English For Students & Children in 1000 Words
In this article, you will read a poverty essay for students and children in 1000 words. This includes meaning, situation in India, causes, effects, reducing ideas, and 10 lines about poverty.
Let's start this Poverty Essay…
Table of Contents
Poverty Essay in English (1000 Words)
Poverty is a state or condition in which an individual or the entire community doesn't have the financial resources and the basic essentials required for a standard of living. 
The essentials for a minimum standard of living are absent in this case. In this state, the income level of the individual is so low that their basic human needs can't be met. 
Many reasons are there for this huge amount of poverty in India, but in short, the population explosion, the increase in prices, the debt trap, lower agricultural productivity, and the lack of proper government development are the sole reasons for it. 
These factors have increased the poverty level and have also increased the gap between the rich and poor. The poor keep getting poorer, whereas the rich become more prosperous.
This has further caused the problem in the Indian economy. Poverty not only affects a single individual, their family , or their community, but it overall affects the economy of the country. 
Overall, the Indian economy depends on the output produced, and poverty decreases efficiency in such cases. 
What is Poverty?
Poverty is the condition of being extremely poor for a human being. In this condition, the individual starts to lack the basic important things in their life: a roof over their heads, necessary food, medicine, clothes, etc., to continue their life. Several reasons for the cause of poverty are possible. 
Poverty in India comprises low income and the inability of an individual to acquire the basic goods and services necessary for his survival with dignity. It also encompasses the low levels of health and education . 
It also encompasses poor access to clean water and sanitation, inadequate physical security, insufficient capacity, and the opportunity to have a better life. 
Poverty has become one of the biggest social issues in India . It severely affects a significant part of the Indian population. Population booms, migration to cities in search of work, and rampant unemployment are some of the major reasons for the growth of poverty in India. 
An increase in the literacy rate and providing sustainable living conditions for the poor are some of the ways in which poverty can be curtailed to some extent. 
Poverty Situation in India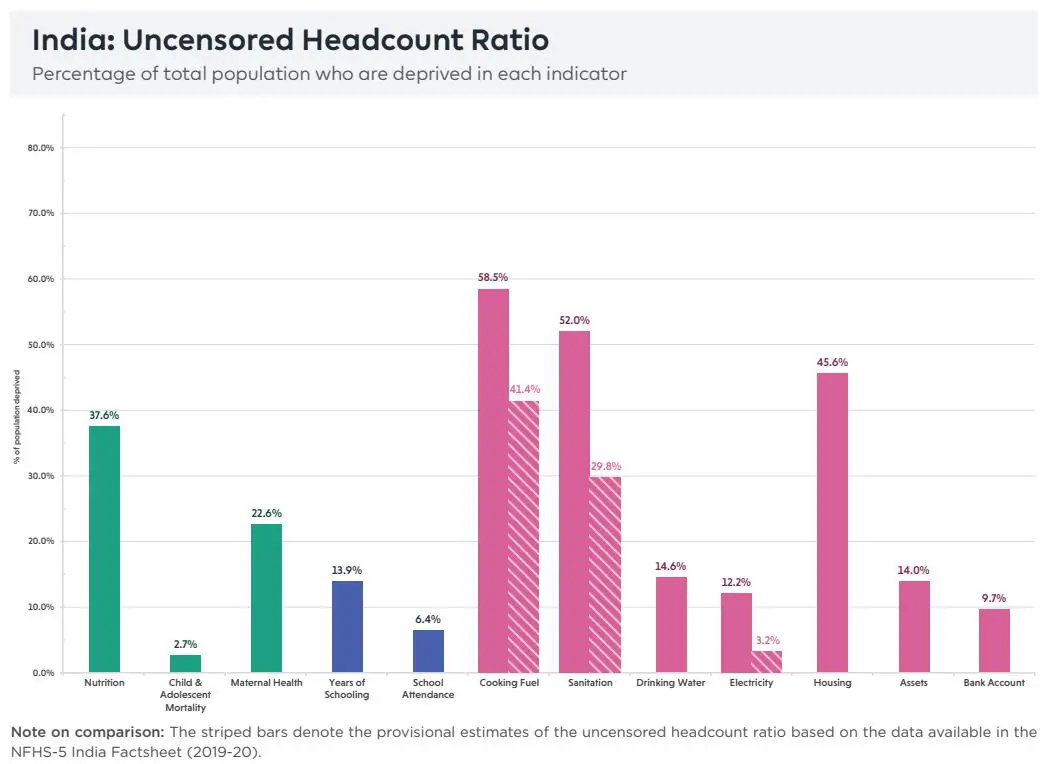 India is one of the world's largest democratic countries, and its economy is growing at a faster rate. It's one of the chief developing nations with an international level of influence. 
Yet, still, it is seen as a poor country. Poverty in India is one of the major issues that every country faces. 
India has a large population that is below the poverty line. That's the reason that makes it a poor country. Even after 74 years of independence, we are still struggling , and poverty has plagued our nation. The poverty level in India is very high, and it affects the development of the country. 
Central and state governments have successfully collaborated with many of the private and public sector organisations to deal with this situation. Their main agenda is to eradicate poverty in India completely. 
Together, they have been able to roll out some successful schemes to eradicate this major problem to a certain extent and keep their citizens satisfied. 
They are trying their best to provide every individual with basic requirements. This task has not helped remove poverty in India. This is India's worst situation ever, and it can't be solved by judging it by its face value. 
Therefore, it becomes very essential to understand the nature of polity in India through a historical context. That is why we can find reforms that could be implemented to curb this social evil.  
Cause of Poverty in India
Poverty is a dreadful problem in human life. Poverty is just like that of an enslaved person who cannot do the things he wants. Poverty has many faces, which keep on changing according to place, time, and person. 
A person defines it in many ways as they live and feel in their life. It's a condition that no one would like to experience, although it has to be carried out due to nature , custom, lack of proper education, and natural disasters . 
India has always had a rich history, from ancient times to the Mughal era. Historians call this place the "Golden Sparrow." It has a vast reserve of gold and other resources.
But over time, the invaders plundered these resources, and the economic health of this country slowly started deteriorating.
The Colonials are solely responsible for the major and significant damage done to this country. They entered as traders and slowly started to occupy a monopoly on various sectors. 
Poverty in India bloomed in the British Raj during the 19th and 20th centuries. The expansion of industries and agricultural exports are increasing day by day. Farming was forced on most individuals who were not farmers by profession. 
Due to British exploitation, workers could not afford a proper meal for the day. By 1943, poverty had reached such a stage that people were starting to die due to starvation. According to Sir Antony MacDonnell, people die like flies due to starvation. 
Effects of Poverty in India
Its effects are far-fetched. Overall health condition is merely affected due to this. Further, these people are even malnourished. Balanced and nutritio us diets are absent from much of the food children eat. 
As a result, their immune systems are merely affected, making them prone to several ailments. It makes them susceptible to anaemia, cardiac issues, poor vision, etc. 
A recent study reveals that nearly 40 out of every 1000 infants die within a year of age. A poverty-ridden society is more vulnerable to violence and crime. Poor people indulge themselves in criminal activities to feed themselves. 
Homelessness is a typical issue associated with poverty in India. This ultimately risks the safety of the woman, and it also promotes child labour in India . It also led to the development of terrorism . 
How to Reduce Poverty in India?
It's not a problem that can be resolved in a week or a year. The eradication of poverty requires careful planning from the country's government to implement some of the policies that cater to the population falling below the poverty line. 
Illiteracy and unemployment are the other two factors contributing to poverty in India. This issue can only be tackled with proper education and financial support. 
Access to education can promote higher education, and higher education can increase the employability of such individuals. In this way, poverty can be elevated as the individual starts earning. Education is the most effective way to combat poverty in India. 
Following features must be taken to eradicate poverty in India-
GOI should invest in the poverty-stricken area.
Increasing the employment opportunities in India.
Skilled training must be provided to the illiterate labourers.
Free education and health care should be provided.
The public distribution system must be effective in its duties. People who are below the poverty line must be able to access free food and fresh water. 
The growing population must be checked. Several schemes that promote birth control must be implemented. 
Proper agricultural resources must be provided to farmers . In this way, their profit can also be increased. As a result, they will not migrate to the urban regions in search of food. 
10 Lines on Poverty Essay in Hindi
It's a situation in which a person is unable to fulfil their basic needs. 
There are six types of poverty: situational, generational, absolute, relative, rural, and urban. Situational poverty is temporary in nature and is due to a loss or crisis.
Poverty is linked with negative conditions such as homelessness, food insecurity, inadequate child care, etc.
A rapidly rising population is the sole reason for this poverty. 
India is a country with the highest population living below the poverty line.
According to the Niti Aayog report, 25% of the population of India is poor. 
States like Jharkhand, Bihar, and UP have the highest poverty in India.
Twelve indicators are used for the national MPI measurement.
7% of the Indian population is living in extremely poor conditions.
A small percentage of Indians, i.e., 0.6%, are escaping the extremely poor conditions every minute. 
Poverty is that problem of human life, in which those suffering from it are unable to get even the basic facilities in life. The government and various NGOs have taken many measures to reduce poverty. So, the standard of living around India can be improved.
I hope you liked this informative poverty essay for students.
Leave a comment Cancel reply
Privacy Policy
Terms and Conditions
School Related Essays
Biographical Essays
Personal Essays
Essay On Animals & Places
Essay On Virtues
Miscellaneous Essays
Learn Micro-Teaching
Skill of Writing Instructional Objectives
Skill of Introducing A Lesson
Skill of Blackboard Writing
Skill of Fluency in Questioning
Skill of Probing Questioning
Skill of Explaining
Skill of Stimulus Variation
Skill of Reinforcement
Skill of Demonstration
Skill of Achieving Closure
B.Ed. Practicum
Science Lesson Plan
English Lesson Plan
Digital Lesson Plan
AHSEC Class 12 English Supplementary
AHSEC Class 12 English Solutions
Fun Science Experiment
Science Project
Essay On The Problem of Poverty in India in 1000 Words
by Admin Jintu
May 13, 2021 July 5, 2021
A well-written essay on the problem of poverty in India in 1000 words for CBSE, SEBA, and any other state education board. This essay on the problem of poverty in India will be very helpful to those students who are going to appear for the Class 10 and class 12 final examinations. Since this essay is very easy to understand and memorize any non-English medium students can easily understand. Also, this essay can be converted into 500 and 300 words essay easily.
Table of Contents
A Brief Essay On The Problem of Poverty in India in 1000 Words
This essay on the problem of poverty in India is written in the proper format of essay writing so that students can carry maximum marks from this essay. All causes and prevention measures of poverty in India are explained properly in this essay. Before we started our essay, please have a look at the quick view of the essay.
Quick view of the essay on the problem of poverty in India: Introduction – Nature and Extent of Poverty – Causes – Methods of Agriculture – Floods – Unemployment – Socio-political and economic system – Difference between the rich and the poor – Conclusion
THE PROBLEM OF POVERTY IN INDIA
Introduction:
India is a rich country in natural resources. Yet, more than fifty percent of its people live below the poverty line. It is one of the biggest blows to our national life and character. All right-thinking people are very much concerned about it.
Nature and Extent of The Problem of Poverty in India
The poverty of the majority of Indians beggars a description. They do not have two square meals a day. The number of beggars is increasing alarmingly. Half-clad and unclad people, including children and women in their thousands, lie on the footpaths and other open places. Crores of people do not have any roof over their heads.
Little children feed themselves with left-overs collected from dustbins or railway platforms and tracks. Skeleton-like people, cooking a fistful of rotten rice of a few festering potatoes in dirty tins and earthen pots by the roadside are a very shameful and disturbing sight. Most of these unfortunate human beings pitiably try to protect themselves from the biting cold of winter with tattered rugs and even newspapers, posters, and festoons. Thousands become victims of cold waves as well as heat waves.
The majority of villages do not have good drinking water and medical facilities. Innumerable patients die due to wanting good food and medicine. One may go on drawing faces of this demon of poverty in India but there would never be an end. This grinding poverty has seriously blotted our image as a nation. It has prevented us from looking at others with a straight face because every one of us is directly or indirectly responsible for this sad state of things.
Causes of Poverty in India: Increase of Population, Exploitation by the Rich
One of the major reasons for this disgusting poverty is the acute shortage of food. The number of babies born to everybody in our country is much bigger than it can feed. About eighty percent. of India's total population live in the villages. The main. occupation of these people is cultivation. But, with the rapid increase of population, the land holdings of these people are gradually decreasing. Moreover, a vast number of these cultivators do not have any land at all or a pair of bullocks to draw their plough. Big landlords, other rich people, and middlemen have been cheating and exploiting them systematically and depriving them of their dues. All this is a vicious circle and there is no end to the misery of the cultivators most of whom cannot even feed themselves.
Methods of Agriculture
Another reason is that, by and large, the methods of agriculture in our country are very backward and outdated. Very few people have adopted modern and improved methods of agriculture. Again, most of the cultivators are so poor that they cannot afford to adopt such expensive methods. Those who can do so become very rich and form a new class by themselves and start exploiting the poor ones.
Frequent floods also cause great devastation to agricultural crops and corn in our country. Every year, the floods wash away thousands of granaries and cattle-heads as well as seedlings planted in vast areas of and. Thus countless cultivators and other villagers are reduced to utter poverty.
Unemployment
The unemployment problem is closely linked with poverty. There are lakhs of unemployed people in our country. Naturally, these people cannot earn anything for their families. Rather they become burdens on others. This acute unemployment problem which is responsible for a great deal of poverty is the result of our unplanned and haphazard system of education.
Socio-political and Economic System
But the root of all these is the socio-political and economic systems prevailing in our country. As a result of this, the benefit of our vast natural resources and national wealth is concentrated in the hands of a handful of selfish and unpatriotic people. This cruel exploitation of the poor has made the latter utterly destitute and unable to adopt any modern techniques of agriculture. At the same time, this private concentration of wealth has impoverished the national exchequer. Consequently, the State cannot adopt any bold, major, and revolutionary measures for the welfare of the common man.
Difference Between the Rich and the Poor in India
The sight of gigantic multi-storeyed palatial buildings overlooking tattered canvas structures where human beings pass their days in untold misery is very disturbing for any conscientious man. The corrupt and the fabulously rich enjoy themselves in vulgar luxury and display their wealth in five-star hotels that look like dreamlands.
Really, what a wonderful country India is! It is clear that shortage of food, cattle, or implements or lack of adoption of improved methods of agriculture, uncontrolled floods, unemployment and corruption, and the like are only signs of a deeper malady. This malady or the real cause of our poverty is the prevailing socio-political and economic systems resulting in unequal distribution.
Conclusion:
We may try to remove poverty through the adoption of such measures as improving the condition of our poor cultivators by tackling the flood problems, the opening of co-operative farming for the adoption of modern agricultural methods, emancipating the poor from the clutches of different kinds of exploiters, creating employment avenues and controlling the rapid growth of population. But, that way we will succeed only partially. To really doing away with poverty, we must try to radically change the systems so that nobody can exploit others. But, for doing that, we have to remember that mere slogan cannot remove poverty. Everyone must work sincerely for it.
2 thoughts on "Essay On The Problem of Poverty in India in 1000 Words"
This one is the best essay I have ever read on such a sensitive topic. kudos to the writer. keep writing.
who is the reference of the problem of poverty in india essay and please tell about the author name and years etc..
Leave a Reply Cancel reply
Your email address will not be published. Required fields are marked *
Save my name, email, and website in this browser for the next time I comment.
Poverty Essay for Students and Children
500+ Words Essay on Poverty Essay
"Poverty is the worst form of violence". – Mahatma Gandhi.
How Poverty is Measured?
For measuring poverty United nations have devised two measures of poverty – Absolute & relative poverty.  Absolute poverty is used to measure poverty in developing countries like India. Relative poverty is used to measure poverty in developed countries like the USA. In absolute poverty, a line based on the minimum level of income has been created & is called a poverty line.  If per day income of a family is below this level, then it is poor or below the poverty line. If per day income of a family is above this level, then it is non-poor or above the poverty line. In India, the new poverty line is  Rs 32 in rural areas and Rs 47 in urban areas.
Get the huge list of more than 500 Essay Topics and Ideas
Causes of Poverty
According to the Noble prize winner South African leader, Nelson Mandela – "Poverty is not natural, it is manmade". The above statement is true as the causes of poverty are generally man-made. There are various causes of poverty but the most important is population. Rising population is putting the burden on the resources & budget of countries. Governments are finding difficult to provide food, shelter & employment to the rising population.
The other causes are- lack of education, war, natural disaster, lack of employment, lack of infrastructure, political instability, etc. For instance- lack of employment opportunities makes a person jobless & he is not able to earn enough to fulfill the basic necessities of his family & becomes poor. Lack of education compels a person for less paying jobs & it makes him poorer. Lack of infrastructure means there are no industries, banks, etc. in a country resulting in lack of employment opportunities. Natural disasters like flood, earthquake also contribute to poverty.
In some countries, especially African countries like Somalia, a long period of civil war has made poverty widespread. This is because all the resources & money is being spent in war instead of public welfare. Countries like India, Pakistan, Bangladesh, etc. are prone to natural disasters like cyclone, etc. These disasters occur every year causing poverty to rise.
Ill Effects of Poverty
Poverty affects the life of a poor family. A poor person is not able to take proper food & nutrition &his capacity to work reduces. Reduced capacity to work further reduces his income, making him poorer. Children from poor family never get proper schooling & proper nutrition. They have to work to support their family & this destroys their childhood. Some of them may also involve in crimes like theft, murder, robbery, etc. A poor person remains uneducated & is forced to live under unhygienic conditions in slums. There are no proper sanitation & drinking water facility in slums & he falls ill often &  his health deteriorates. A poor person generally dies an early death. So, all social evils are related to poverty.
Government Schemes to Remove Poverty
The government of India also took several measures to eradicate poverty from India. Some of them are – creating employment opportunities , controlling population, etc. In India, about 60% of the population is still dependent on agriculture for its livelihood. Government has taken certain measures to promote agriculture in India. The government constructed certain dams & canals in our country to provide easy availability of water for irrigation. Government has also taken steps for the cheap availability of seeds & farming equipment to promote agriculture. Government is also promoting farming of cash crops like cotton, instead of food crops. In cities, the government is promoting industrialization to create more jobs. Government has also opened  'Ration shops'. Other measures include providing free & compulsory education for children up to 14 years of age, scholarship to deserving students from a poor background, providing subsidized houses to poor people, etc.
Poverty is a social evil, we can also contribute to control it. For example- we can simply donate old clothes to poor people, we can also sponsor the education of a poor child or we can utilize our free time by teaching poor students. Remember before wasting food, somebody is still sleeping hungry.
Travelling Essay
Picnic Essay
Our Country Essay
My Parents Essay
Essay on Favourite Personality
Essay on Memorable Day of My Life
Essay on Knowledge is Power
Essay on Gurpurab
Essay on My Favourite Season
Essay on Types of Sports
Which class are you in?
Download the App

Essay on Poverty for Children and Students

Table of Contents
Essay on Poverty: Poverty is defined as the financial condition of a person, insufficient to sustain the vital needs of his/her own family. Any person of family which is unable to provide a square meal to the members or educate its children for the want of money is termed as poor and suffering from poverty. It is curse to the society and restricts the economical and social growth of a nation. Poverty eradication in a highly populous country as India could be a herculean task; though, it could be achieved through will power of the government and society. In the world scenario, poverty is great concern in the developing, under developed and the third world nations. Poverty also results in several diseases, law and order situations and very low standard of living.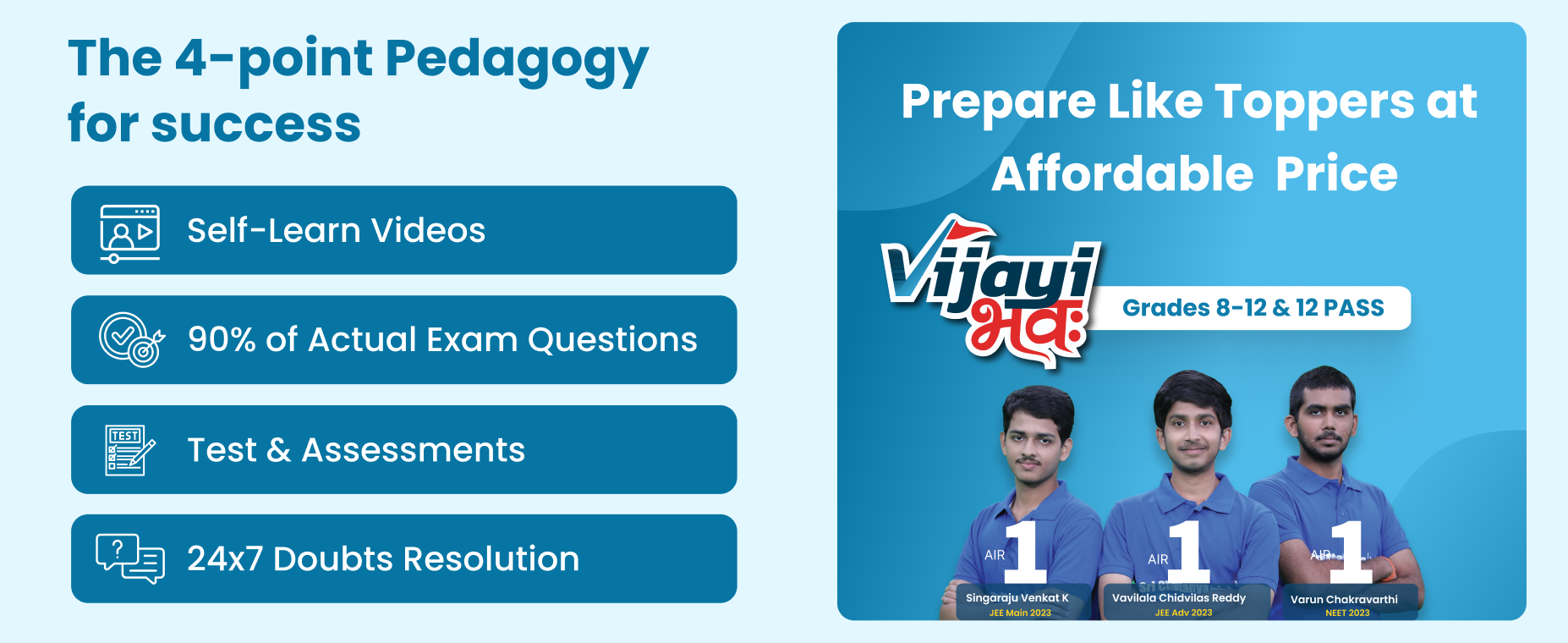 Congratulations you have unlocked a coupon code of 10%

Fill Out the Form for Expert Academic Guidance!
Please indicate your interest Live Classes Books Test Series Self Learning
Verify OTP Code (required)
I agree to the terms and conditions and privacy policy .
Fill complete details
Target Exam ---
Long and Short Essay on Poverty in English
We have provided below various essay on poverty in order to help students.
Now-a-days, essays or paragraphs writing are common strategy followed by the teachers in the schools and colleges in order to enhance the skill and knowledge of students about any topic.
All the poverty essay are written using very simple words under various words limit according to the need and requirement of students.
They can select any of the essays given below according to their need and requirement in the class, any competition or exam.
Poverty Essay 1 (100 words)
Poverty is the state for any person of being extremely poor. It is the extreme situation when a person feels lack of essential items required to continue the life such as shelter, adequate food, clothing, medicines, etc. Some of the common reasons of poverty are like overpopulation, lethal and epidemic diseases, natural disasters, low agricultural output, lack of employment, casteism in country, illiteracy, gender inequality, environmental problems, changing trends of economy in the country, lack of proper education, untouchability, limited or inadequate access of people to their rights, political violence, organized crime, corruption, lack of motivation, idleness, old social beliefs, etc. Poverty in India can be reduced by following effective solutions however needs individual efforts of all the citizens.
Poverty Essay 2 (150 words)
We can define poverty as the lack of food, proper shelter, clothing, medicines, education, and equal human rights. Poverty forces a person to remain hungry, without shelter, without clothes, education and proper rights. There are various causes of poverty in the country however solutions too but because of the lack of proper unity among Indian citizens to follow solutions, poverty is increasing badly day by day. Spread of epidemic diseases in any country is the reason of poverty as poor people cannot take care of their health and hygienic condition.
Poverty makes people unable to go to doctor, to go to school, how to read, to speak properly, to eat three times meal, to wear needed clothes, to purchase own house, to get paid properly for job, etc. Poverty forces a person to go towards illness as they drink unclean water, lives at dirty places, and eat improper meal. Poverty causes powerlessness and lack of freedom.
Poverty Essay 3 (200 words)
Poverty is just like a condition of slave when a person becomes unable to do anything according to his/her wish. It has many faces which changes according to the person, place and time. It can be described in many ways a person feel it or live it. Poverty is a situation which no one wants to live however has to carry it by custom, nature, natural disaster, or lack of proper education. The person lives it, generally wants to escape. Poverty is a call to action to the poor people to earn enough money to eat, have access to education, get adequate shelter, wear needed clothes, and protection from the social and political violence.
It is an invisible problem which affects a person and his/her social life very badly in many ways. Poverty is completely preventable problem however there are many reasons which carry and continue it from the past time. Poverty keeps a person lack of freedom, mental well-being, physical well-being, and security. It is very necessary for everyone to work jointly in order to remove poverty from the country and world to bring proper physical health, mental health, complete literacy, home for everyone, and other needed things to live a simple life.
Poverty Essay 4 (250 words)
Poverty is a human condition which brings despair, grief and pain in the human life. Poverty is the lack of money and all the things required to live a life in proper manner. Poverty makes a child unable to enter to the school in childhood and lives his/her childhood in an unhappy family. Poverty is the lack of few rupees to arrange bread and butter of two times daily, buy text books for kids, grief of parents responsible for the care of children, etc. We can define poverty in many ways. It is very common to see poverty in India because most people here cannot fulfill their basic necessities of the life. A huge percentage of population here is uneducated, hungry and without home and clothe. It is the main reason of the poor Indian economy. Because of the poverty, around half population in India is living a miserable life.
Poverty creates a situation in which people fail to get sufficient income so they cannot purchase necessary things. A poor man lives his/her life without any command over basic needs such as two times food, clean drinking water, clothing, house, proper education, etc. People who fail to maintain the minimum standard of living such as consumption and nutrition required for existence. There are various reasons of poverty in India however mal distribution of national income is also a reason. Low income group people are relatively poorer than the high income group. Children of the poor family never get chance of proper schooling, proper nutrition and happy childhood. The most important reasons of the poverty are illiteracy, corruption, growing population, poor agriculture, gap between poor and rich, etc.
Poverty Essay 5 (300 words)
Poverty represents poor quality of life, illiteracy, malnutrition, lack of basic needs, low human resource development, etc. It is a biggest challenge to the developing country especially in India. It is a phenomenon in which a section of people in the society cannot fulfill their basic necessities of life. It has seen some decline in the poverty level in the last five years (26.1% in 1999-2000 from 35.97% in 1993-94). It has also declined at state level such as in Orissa it has been declined to 47.15% from 48.56%, in Madhya Pradesh 37.43% from 43.52%, in UP 31.15% from 40.85%, and in West Bengal 27.02% from 35.66%. Instead of some decline in the poverty in India it is not the matter of happiness because the Indian BPL is still very large number (26 crore).
Poverty in India can be eradicated by the use of some effective programmes, however need a joint effort by everyone not by the government only. Government of India should make some effective strategies aiming to develop poor social sector through key components like primary education, population control, family welfare, job creation, etc especially in the rural areas.
What are Effects of Poverty
Some of the effects of poverty are like:
Illiteracy: poverty makes people unable to get proper education because of the lack of money.
Nutrition and diet: poverty causes insufficient availability of diet and inadequate nutrition which brings lots of lethal diseases and deficiency diseases.
Child labor: it gives rise to the huge level illiteracy as the future of the country gets involved in the child labor at very low cost in their early age.
Unemployment: unemployment causes poverty as it creates the lack of money which affects people's daily life. It forces people to live unfulfilled life against their will.
Social tensions: it creates social tension due to the income disparity between rich and poor.
Housing problems: it creates the bad condition for people to live without home on the footpath, roadside, other open places, many members in one room, etc.
Diseases: it gives rise to the various epidemic diseases as people with lack of money cannot maintain proper hygiene and sanitation. Also they cannot afford a doctor for the proper treatment of any disease.
Feminization of poverty: poverty affects women's life to a great extent because of the gender-inequality and keeps them deprived of the proper-diet, nutrition, medicines and treatment facility.
Poverty Essay 6 (400 words)
Introduction
Poverty is a situation in which people remain deprived of basic necessities of life such as inadequacy of food, clothes, and shelter. Most of the people in India cannot get their two times meal properly, sleep at roadside and wear dirty and old clothes. They do not get proper and healthy nutrition, medicines, and other necessary things. Poverty in the urban India is increasing because of the increase in urban population as people from rural areas like to migrate to the cities and towns to get employment or do some financial activity. The income of around 8 crore urban people is below poverty line and 4.5 crore urban people is on borderline of poverty level. A huge number of people live in slum become illiterate. In spite of some initiatives there is no any satisfactory results shown regarding reduction of poverty.
Causes of Poverty
The main causes of poverty in India are growing population, poor agriculture, corruption, old customs, huge gap between poor and rich people, unemployment, illiteracy, epidemic diseases, etc. A huge percentage of people in India depend on agriculture which is poor and cause poverty. Generally people face shortage of food because of poor agriculture and unemployment. Ever growing population is also the reason of poverty in India. More population means more food, money and houses. In the lack of basic facilities, poverty grows more rapidly. Becoming extra rich and extra poor creates a huge widening gap between the rich and the poor people. Rich people are growing richer and poor people are growing poorer which creates an economic gap between the two.
Effects of Poverty
Poverty affects people's life in many ways. There are various effects of poverty such as illiteracy, poor diet and nutrition, child labor, poor housing, poor life style, unemployment, poor hygiene, feminization of poverty, etc. Poor people cannot arrange a healthy diet, maintain good life style, home, nice clothes, proper education, etc because of the lack of money which creates a huge difference between rich and poor. This difference leads to the undeveloped country. Poverty forces small children to do work at low cost and help their family financially instead of going to the school.
Solutions to Eradicate Poverty
It is very necessary to solve the problem of poverty on urgent basis for the goodness of humanity on this planet. Some of the solutions that can play great role in solving the problem of poverty are:
Farmers should get proper and required facilities for good agriculture as well as to make it profitable.
Adult people who are illiterate should be given required training for the betterment of life.
Family planning should be followed by the people in order to check the ever-rising population and thus poverty.
Corruption should be ended all over the world to reduce the poverty.
Each and every child should go to the school and take proper education.
There should be ways of employment where people of all categories can work together.
Poverty is not only the problem of a person however it is a national problem. It must be solved on urgent basis by implementing some effective solutions. Variety of steps has been taken by the government to reduce poverty however no clear results are seen. Eradication of poverty is necessary for the sustainable and inclusive growth of people, economy, society and country. Eradication of poverty can be done effectively by the unite effort of each and every person.
Related Information:
Slogans on Poverty
Paragraph on Poverty
Essay on Beggars
Essay on Food Waste
International Day for the Eradication of Poverty
Related content

Talk to our academic expert!
Language --- English Hindi Marathi Tamil Telugu Malayalam
Get access to free Mock Test and Master Class
Register to Get Free Mock Test and Study Material
Offer Ends in 5:00
Talk to our experts
1800-120-456-456
Poverty in India Essay for Students in English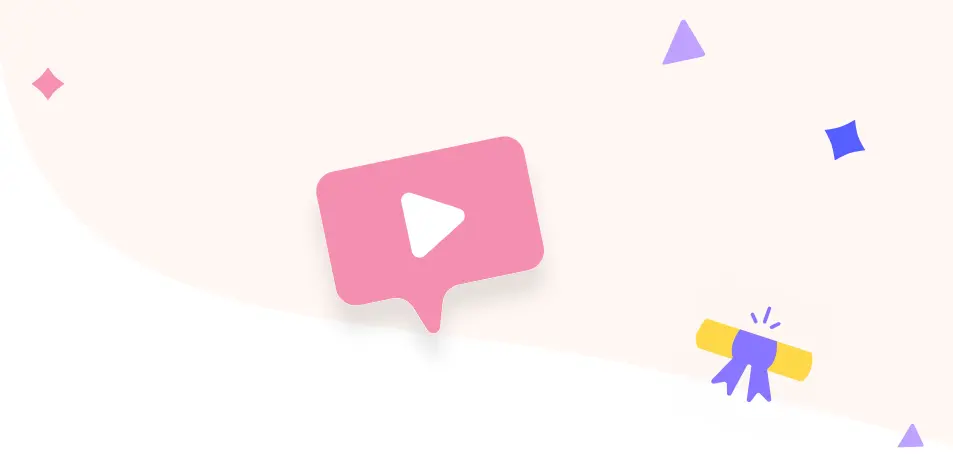 Essay on Poverty In India
People living in poverty do not have enough money for basic necessities such as food and shelter. An example of poverty is the state a person is in when he is homeless and does not have enough money. The rate of poverty in India is increasing because of the population in the urban areas. Most importantly, crores of peoples are below the poverty line and most of the people are on the borderline of poverty. Poverty in India is seen mainly in the rural areas because of the uneducated and unemployed and increased population. Many people do not afford to get proper foods for their daily life and even they don't have their own homes, they sleep on the footpath or road, more populations need more food, money, and for staying houses but due to lack of this poverty grows very quickly, thus in addition rich are growing richer and the poor becoming more poorer which becomes difficult to fill the gap. Poverty has many effects like it reduces poor housing, illiteracy, increase the rate of child labour and unemployment, poor hygiene hence these poor people can not afford a balanced diet, nice clothes, well education etc. reason only because they don't have much money to afford this. Poverty can be controlled by giving them proper education and also providing the proper facilities to the farmers so that those farmers get more profitable and do not migrate to cities in search of employment. Also, the illiterate people should get proper education to make their life better. Family planning is also essential for coming out of poverty. Poverty in our country is from ancient times. Even earlier times the poor people were not given the place that rich people used to get even if they were not allowed to enter religious places. Main causes of poverty are like unemployment, lack of education, poor utilization of resources, corruption and poor government policy.
How You Can Improve or Solve Poverty in India?
Poverty can be solved by improving food security by providing three meals a day and making them healthy and providing houses for those people at low cost and giving them proper education and facilities so that they can earn well and take care of their family and live a peaceful life. Awareness on population so that once the population is under control, the economy of the country will improve and move towards development and decrease in the poverty line. Poverty is becoming a complex problem for the people and for the government. How to overcome this, in India the poverty is high compared to other countries because the growth rate of per capita income per person is very low.
With lack of job opportunities many people move as a rickshaw puller, construction workers, domestic servants etc, with irregular small incomes hence they live in slum areas. Also, lack of land resources has been one of the major causes of poverty in India, even the small farmers of our country lead to poverty because they cultivate but do not get proper money in terms of profit and leads to poverty.
Population of India
The population has been increasing in India at a rapid speed, India's population in 1991 was around 84.3 crores where was poverty at a high rate but now the current population of our country is around 130 crores whereas the population is almost doubled in last three decades but still not enough done for controlling the poverty in our country. Due to an increase in population, there is more unemployment, hence poverty is just the reflection of unemployment. More capital is required for making industry, giving proper transport facilities and other projects, hence the deficiency of its country is still underdeveloped and causes more poverty. Lack of skilled labor also leads to poverty because less-skilled labor have insufficient industrial education and training. Lack of infrastructure means that transport and communication have not been properly developed so that the farmers are not getting fertilizers for cultivation on time and industries do not get power supply and raw materials on time and thus end products are not marketed properly and not reachable on time. Because of poverty sometimes we don't get those things for what we actually are. Hence to come out of poverty our government has to be more serious and also the citizens should take equal responsibilities. Remove the poverty from country governments has started many steps, in last 2-3 years we have seen that they become more serious by bringing GST in the action, demonetization so because of GST all the businessman can pay full tax and which will help to develop the country and the poverty ratio can be reduced. Steps of demonetization were taken so that black money can be utilized for the poor people and poverty can be reduced. We can overcome poverty by following all the guidelines of the government and can be free from poverty.
India's Poverty Factors
One of the biggest problems of poverty in India is the country's rapid population growth. As a result, there is a high rate of illiteracy, poor health-care facilities, and a lack of financial resources. Furthermore, the high population growth rate has an impact on individual income, making individual income much lower. By 2026, India's population is predicted to surpass 1.5 billion, making it the world's largest country. However, Economic growth is not rising at the same rate as the rest of the world. This indicates a labor shortage. About 20 million new jobs will be required to accommodate this big population. If such a vast number of people are poor, the number of poor will keep rising.
How Much Research is Important for Students to Write Good Essays?
The students must realize that brainstorming and a mind map of the essay will take them in the direction of their research. With the advent of the internet, the days are numbered for students who rely on a well-tipped encyclopedia from the school library as their only authoritative source for their story. If there is any real problem for our readers today is reducing their resources to a manageable number. At this stage, it is important to:
Make sure the research material is directly related to the essay work
Record detailed sources of information that they will use in their story
Communicate in person by asking questions and challenging their own bias
Identify the main points that will be highlighted in the story
Gather ideas, arguments, and opinions together
Identify the major issue they will discuss in their case.
Once these stages have been completed by the student, the student will be ready to make his points in a logical order and prepare an essay.
Therefore, the topic discussed on this page is poverty and poverty is not a human problem but a national one. Also, it should be addressed immediately with the implementation of effective measures. In addition, the eradication of poverty has been a prerequisite for sustainable and inclusive growth for individuals, communities, the country and the economy.
Paragraph Tips on Essay Writing
Each paragraph should focus on one main idea
The Paragraphs should follow a logical sequence, students should collect similar ideas together to avoid collisions
Paragraphs should be stated consistently, learners should be able to choose which line to reverse or skip.
Transition words and similar phrases, as a result, should instead be used to provide flow and provide a bridge between Paragraphs.
General Structure of an Essay
Introduction: Give the reader the essence of the essay. It sets out the broader argument that the story will make and informs the reader of the author's general opinion and method of questioning.
Body Paragraphs: These are the 'flesh' of the essay and outline the point made in the introduction by a point with supporting evidence.
Conclusion: Usually the conclusion will repeat the middle argument while providing a summary of the main reasons supporting the story even before linking everything back to the first question.
FAQs on Poverty in India Essay for Students in English
1. What are the Causes of Poverty in India?
The cause of poverty is very obvious in a country like India. The people in India are very careless about the population growth and due to which there is a lot of hassle and unnecessary elevation in population growth rate. This is automatically leading to poverty as there are fewer resources and more people to be served in each state in India. Various causes affect poverty:
Unemployment.
The intensity of population.
The high rate of inflation.
Lack of skilled labor
2. What are the Types of Poverty?
Although there are only two main types of poverty existing in India we will be learning all of them as mentioned in the following lines. The two main classifications of poverty are relative poverty and absolute poverty and both of them emphasize income and consumption. Sometimes, poverty cannot be blamed or associated with economic problems but also it must be associated with society and politics.
There are six types of poverty which are listed below:
Situational poverty.
Generation poverty.
Absolute poverty.
Relative poverty.
Urban poverty.
Rural poverty.
3. How to Reduce the Poverty Line in India?
India is a country that has been under the radar of poverty for centuries. The people of India are making efforts to take themselves out of the poverty line but there are a lot of hindrances. The lack of resources and limited alternatives have thrown the rural and urban residents below the poverty line making life unhealthy and miserable for them. 
Here are some measures listed below
Provide food, shelter and clothes facilities to poor people.
Encourage them for education either male or female. 
Give employment.
4. Why choose Vedantu for referring to the Poverty in India essay for students in English?
Students should refer to Vedantu for downloading as these solutions will be filling you with the basic knowledge of writing essays. There are loads of vocabulary words and phrases which will enable the students to write high-class essays. The Vedantu website provides 100% authentic content which will lead to additional accuracy of the student's essay. Basic concepts of writing an essay are available free of cost on the Vedantu website. Avoid problems and enjoy hassle-free preparation with the help of Vedantu.
5. Why refer to Vedantu for studying the Poverty in India Essay for Students in English?
Vedantu not only provides comprehensive and detailed knowledge to the students but also imparts the ability to study on their own without any hassle to the students. The concept of Poverty in India Essay for Students in English is so beautifully explained in the Vedantu website that anyone who is reading the content and the rules will understand in one instance whatever that person is searching for. The students must know how to write good essays from a very young age and hence the experts at Vedantu are fulfilling that request of the students.