Chinese New Year – Few lines, Short Essay and Full Essay
Essays , Festivals 0
Few lines about Chinese New Year
Chinese new year is also known as Lunar new year
It is a Chinese festival celebrating the beginning of a new year of the Chinese calendar.
In mainland china, the day marks the onset of spring and is referred as the Spring Festival.
In 2020, the Chinese New Year is celebrated on 25th January and it's a public holiday.
This Chinese year is called the Year of the Rat.
Brief essay on Chinese New Year
Chinese New Year is a well-known Chinese festival that celebrates the beginning of a new year of the Chinese calendar. It is also known as lunar New Year or the Spring Festival as it marks the onset of spring. The first day of Chinese New Year begins on the new moon day that happens between 21 January and 20 February. In 2020 the Chinese New Year is celebrated on 25th January commencing the Year of the Rat. Chinese New Year is an important holiday in China and the festival is also celebrated worldwide in regions with significant Chinese populations.
Long Essay on Chinese New Year
Chinese New Year marks the beginning of a new year in the Chinese calendar. It is also termed as "Lunar New Year", "Chinese New Year Festival", and "Spring Festival". Generally, the Chinese New Year falls on different dates every year in the Gregorian calendar. It is calculated based on the first new moon day that falls between 21th of January and 20th of February.
Chinese New Year celebrations starting from the New Year eve and ends with the Lantern festival that is held on the 15th day of the year. Chinese New Year is observed as a public holiday in china and in several countries with sizable Chinese and Korean population. It is the longest holidays in china. The holidays mark the end of the winter's coldest days and people welcome the spring, praying to Gods for the upcoming planting and harvest season.
Different regional customs and traditions accompany the festival. Eating dumplings, Yule Log cake, tang yuan or 'soup balls', and red envelopes with 'lucky' money are part of customary celebration. According to some Myth, the Chinese New Year festival celebrates the death of a monster called Nian, which was killed by a brave boy with fire crackers on the New Year's Eve. And that's why firecrackers is considered the crucial part of the Spring Festival as it is believed to scare off monsters and bad luck.
This year, 2020, Chinese New Year falls on 25th of January is called the year of the Rat.
Related Worksheets and Exercises
St Patrick's Day Essay
Favorite Festival – Diwali
What is Black Friday? Why we call it Black Friday?
Rakshabandhan 2017
Thiruvalluvar Day
Pongal Festival
Happy New Year
Guru Nanak Jayanthi
Rakshabandhan
Leave a Reply Cancel reply
Your email address will not be published. Required fields are marked *
Need help? Open
What our subscribers say...
How to videos
Create new account
Reset your password
The Chinese New Year
Chinese New Year , also known as Lunar New Year or the Spring Festival , is the main Chinese festival of the year. As the Chinese use the lunar calendar for their festivals the date of Chinese New Year changes from year to year. The date corresponds to the new moon (black moon) in either late January or February. The spring festival celebrates the start of new life and the season of ploughing and sowing.
Traditionally, celebrations last for fifteen days , ending on the date of the full moon, when it is at its brightest. The first week is celebrated with visits to friends and family following special traditions designed to bring good luck. The second week ends with the Lantern Festival on the evening of the 15th day of the lunar month.
In China, the public holiday lasts for three days and this is the biggest and most extravagant celebration of the year.
The Chinese calendar is different from that used in the United Kingdom. It is made up of a cycle of twelve years, each of them being named after an animal . This is very like our signs of the zodiac or star signs. Some people believe that people born in a particular year, such as the Year of the Dog, will have some of the characteristics of that animal.
Top 10 facts
Before the start of the festivities, Chinese people spring clean their houses to sweep away any bad luck.
On New Year's Eve, all brooms, dustpan and brushes are put away so that good luck can't be swept away. Houses are decorated with paper scrolls with good luck phrases such as ' Happiness ' and ' Wealth '.
People will stay up until midnight setting off fireworks to frighten away evil spirits. Red symbolises fire which will scare away evil spirits , so people dress head to foot in new red clothing.
Children receive red envelopes full of money instead of wrapped gifts that other nationalities give at Christmas. The amount they receive is usually an even number but the amount cannot be divisible by four. In Chinese, the number 4 means death!
Everyone goes home for the Chinese New Year celebrations, if they can. The period just before the Chinese New Year, called ' chunyun ', is the busiest travel time of the entire year. All across China and beyond, you'll find people on their way home to spend this time with their families.
Lion and dragon dances are common during the Chinese New Year and it is believed that the loud drumming and clashing of cymbals will chase away bad luck and evil spirits.
Some Chinese believe you should not wash your hai r on the first day of the Chinese New Year as you would be washing away your good luck for the New Year.
To make sure you're not ridden with debt in the New Year, the Chinese believe that all outstanding bills and monies owed to friends and family members should be paid off before the Chinese New Year.
The Chinese believe that crying and wailing on the first day of the Chinese New Year will result in sad times for the remainder of the year. It is also frowned upon to start the New Year by swearing, getting upset or getting angry.
White or black clothing are often avoided during the festivities as they represent the traditional colours of mourning for Chinese.
Boost Your Child's Learning Today!
Start your child on a tailored learning plan
English & maths resources added each week to your plan
Keep your child's learning on track & watch their confidence grow
Did you know?
The first day of Chinese New Year is always between January 21st and February 21st, coinciding with the first new moon – the darkest day – between these two dates. In fact, Chinese months are all reckoned by the lunar calendar, with each month beginning on the darkest day. New Year festivities traditionally start on the first day of the month and continue until the fifteenth, when the moon is brightest. In China, people may take weeks of holiday from work to prepare for and celebrate the New Year.
The Chinese New Year calendar has 12 years in a cycle . Each cycle is named after an animal, in a particular order: r at, ox, tiger, rabbit, dragon, snake, horse, sheep, monkey, rooster, dog, and pig . When the cycle is over, on the Year of the Pig, the Year of the Rat starts and so on.
' Shou Sui ' means after the New Year's Eve dinner, family member will normally stay awake during the night. Some people just stay until the midnight, after the fireworks . According to tales and legends, there was a mythical beast called ' Nian ', which means ' Year '. On New Year's Eve night, the 'Year' will come out to harm people, animals, and property. Later, people found that the 'Year' is afraid of the colour red, fire, and loud sounds. Therefore, on New Year's Eve at midnight, people will launch fireworks, light some fires, or even stay awake the whole night to fend off the 'Year'.
The Food or Kitchen God plays an important role for Chinese families prior to the Chinese New Year. His mission is the report the activities of each household to the head of the Gods, the Jade Emperor. To ensure the Food God says positive things about the family, they put honey or sweet rice on the lips of a replica or model. Small year is the 23th or 24th of the last month of the year. It is said that this is the day the Food God will leave the family to go to the heaven to report the activity of family to the Emperor. People will have some religious ceremony to farewell the Food God, including taking down and burning any paintings or pictures of the Food God. After New Year's Day, people will buy a new painting of the Food God and put it back up in the kitchen.
There are a few ways to say 'Happy New Year'. One way is Gong Xi Fa Cai pronounced "gong zee fah chai." Gong xi means "congratulations" and is also a way to wish one joy. Fa cai is to become rich or make money. In essence, you are wishing someone joy and prosperity in the new year. Business owners and workmates use Gong Xi Fa Cai as the usual way to say "happy new year" in Chinese.
Look through the gallery below and see if you can spot the following:
A Chinese dragon
New Year celebrations
Traditional lanterns
Money envelopes and other Chinese New Year objects
Decorations in China
The 12 animals of the Chinese Zodiac
Families decorate their houses with lots of red
Red New Year decorative objects
Chinese New Year lights
Colourful Chinese lanterns
Chinese New Year is the biggest holiday celebrated among Chinese people. It is often referred to as the spring festival because it signals the beginning of spring. It is a time when families and friends get together to say goodbye to the old and welcome the new.
The exact origin of this holiday is too old to be traced, but many explanations still exist. One idea is that the holiday originated when a beast named Nian (which means 'year' in Chinese) came out the night before the New Year and started to prey on the people in the villages. Of course, the people were very frightened by this monster and so a brave old man went up to the beast and said to him that instead of eating the people of the villages, he should eat the other beasts that frightened these people. Nian followed the old man's request and all of the beasts were chased into the forest. The old man rode away on Nian's back; as it turns out, the man was an immortal god. The people of the village were very grateful to the old man for giving them a peaceful life. Before the old man left for good, he told the people to put up red paper decorations on their windows and doors at the beginning of each New Year because the colour red scared the beast. They also set off firecrackers to scare away the horrible beast.
Very few people know when this holiday is celebrated without looking at a traditional Chinese calendar because it never falls on the same day. The ancient Chinese used a lunar calendar. Chinese years are grouped in sets of 12 with each year being represented by an animal (zodiac sign). Legend has it that in ancient times, Buddha asked all the animals to meet him on Chinese New Year. Twelve came, and Buddha named a year after each one. He announced that the people born in each animal's year would have some of that animal's personality . For example, those born in horse years are cheerful, skilful with money, perceptive, witty, talented and good with their hands.
During the Chinese New Year's celebration, people participate in many traditional activities . The Chinese believe that as they enter a new year, they should put behind them all things of the past. They clean their houses, pay off debts, purchase new clothes, paint their doors and window panes, and even get new haircuts. These activities symbolise new life and new beginnings.
Homes are decorated with flowers and paper decorations stating wishes of prosperity, good luck, happiness, good fortune, wealth, and longevity for the coming year. Decorations of the incoming zodiac animal are also displayed. Red and gold are very popular colours to decorate with. Red represents power happiness, vitality (and scares away beasts). Gold represents wealth and good fortune.
One very important tradition of the Chinese New Year is exchanging gifts . A traditional gift that is given is small red envelopes filled with "lucky money". These envelopes are given to children by their family and friends. The red colour is used to bring good fortune, and the money inside is used by the children to buy holiday treats. These envelopes symbolise the giving of good fortune.
Food is also very important to New Year's celebrations. Families and friends get together for large feasts. Before they eat, they place their food on alters and make offerings to the gods. The foods served at these feasts vary, but what is served is always a tradition for that family. According to the Chinese New Year facts, each of the food items represents a symbol of luck:
Bamboo shoots, egg rolls, oranges or seaweed: wealth
Chicken: happiness and marriage
Dried bean curd: happiness
Eggs: fertility
Fish served whole: prosperity
Chinese garlic chives: everlasting, a long life
Lychee nuts: close family ties
Noodles or peanuts: a long life
Seeds: having a large number of children
Tangerines: luck
Words to know:
Festival - a day or period of celebration, often one of religious significance Festivities - the enjoyment or merrymaking typical of a celebration Lunar - relating to a moon or its movement around a planet, especially the Moon in relation to Earth Origin - the thing from which something develops, or the place where it comes from Participate - to take part in an event or activity
Related Videos
Just for fun...
Lots of Chinese New Year crafts for children
Make a Chinese lantern
Chinese New Year printable games and 3D models to make
Make your own Chinese New Year dragon
Chinese New Year crafts
Some online Chinese New Year games to try
A Chinese dragon game for younger children
Find out about Chinese New Year customs and learn some dance moves inspired by Chinese New Year in Let's Move, presented by Justin Fletcher for BBC Schools Radio
Chinese zodiac activities and crafts
Children's books about Chinese New Year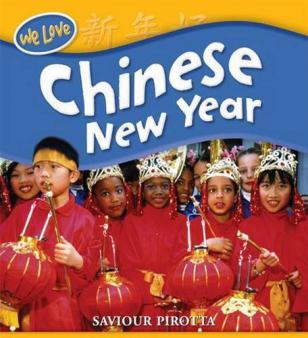 Find out more:
A kids' video introduction to Chinese New Year
Find out all about Chinese New Year and the Chinese Zodiac
More information about the Chinese New Year
Which animal's year were you born in?
Find out more about the lion dance, and perform your own
Find out more about the red envelopes, and make one for yourself
Download the British Council's brilliant Chinese New Year booklets, including stories and recipes. There's a booklet for the Year of the Pig , the Year of the Dog , the Year of the Rooster , the Year of the Monkey , the Year of the Sheep and the Year of the Horse .
See for yourself
Major cities outside of China also celebrate the Chinese New Year. Is there a celebration taking place near you?
Find out more about Chinese New Year preparations and celebrations on the BBC kids' website Let's celebrate
Attend the Museum of London Docklands' Lunary New Year Festival online and watch a Taiwanese puppet performance, understand the meaning behind the traditional Lion dance, make your own lunar lantern, try a family yoga workshop inspired by animals from the Chinese zodiac story and lots more
Give your child a headstart
FREE articles & expert information
FREE resources & activities
FREE homework help

MOST POPULAR

Chinese New Year primary resource
Learn all about the celebrations to welcome the year of the pig.
This primary resource introduces children to a small part of Chinese culture, by examining the celebrations of Chinese New Year. Discover the event which takes place on the 5 th February 2019, and the customs which help to mark the Year of the Pig in the Chinese Zodiac. Why does the new year begin on the 5th February this year? What does the colour red symbolize in the celebrations? How long does Spring Festival last?
Pupils will learn about how people celebrate Chinese New Year in our National Geographic Kids' Culture primary resource sheet.
The teaching resource can be used in study group tasks for understanding aspects of Chinese New Year, as a printed handout for each pupil to review and highlight key information, or for display on the interactive whiteboard for class discussion.
Activity:  Ask children to conduct their own research into the 12 different animals of the Chinese Zodiac. The class could be divided into 12 pairs or groups, with each group assigned one of the animals from the cycle. Pupils could also list the similarities and differences of this New Year's festival compared to the New Year celebrations they're used to taking part in. As a class,pupils could hold their own Chinese New Year festival, decorating the room in with red decorations and trying out some Chinese dancing and masks.
N.B. The following information for mapping the resource documents to the school curriculum is specifically tailored to the English National Curriculum and Scottish Curriculum for Excellence . We are currently working to bring specifically tailored curriculum resource links for our other territories; including South Africa , Australia and New Zealand . If you have any queries about our upcoming curriculum resource links, please email: [email protected]
This Culture primary resource assists with teaching the following History objectives from the National Curriculum :
Gain historical perspective by placing their growing knowledge into different contexts, understanding the connections between local, regional, national and international history; between cultural, economic, military, political, religious and social history; and between short- and long-term timescales.
And the following Key Stage 1 Geography objectives from the National Curriculum :
understand geographical similarities and differences through studying the human and physical geography of a small area of the United Kingdom, and of a small area in a contrasting non-European country.
This Culture primary resource assists with teaching the following Social studies objectives from the Scottish Curriculum for Excellence :
broaden my understanding of the world by learning about human activities in the past and present.
Scottish Curriculum for Excellence Early level Social studies objectives :
I am aware that different types of evidence can help me to find out about the world around me.
I can discuss issues of the diversity of cultures, values and customs in our society.
Download primary resource
Leave a comment.
Your comment will be checked and approved shortly.
WELL DONE, YOUR COMMENT HAS BEEN ADDED!
Customize your avatar.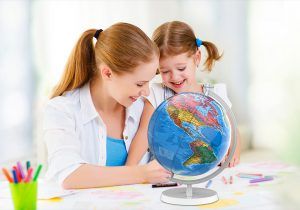 Smart Globes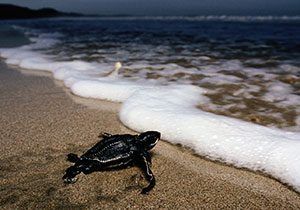 Leatherback turtle facts!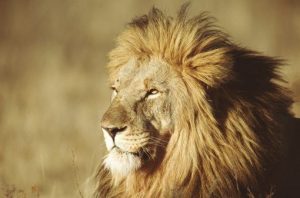 10 lion facts!
11 cats that totally ruined christmas.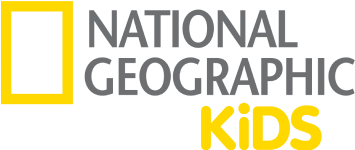 Sign up to our newsletter
Get uplifting news, exclusive offers, inspiring stories and activities to help you and your family explore and learn delivered straight to your inbox.
You will receive our UK newsletter. Change region
WHERE DO YOU LIVE?
COUNTRY * Australia Ireland New Zealand United Kingdom Other
By entering your email address you agree to our Terms of Use and Privacy Policy and will receive emails from us about news, offers, activities and partner offers.
You're all signed up! Back to subscription site
Type whatever you want to search
More Results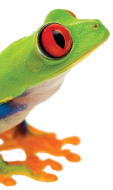 You're leaving natgeokids.com to visit another website!
Ask a parent or guardian to check it out first and remember to stay safe online.

You're leaving our kids' pages to visit a page for grown-ups!
Be sure to check if your parent or guardian is okay with this first.
Listen and watch
Short stories
My favourite day - Chinese New Year
Lunar New Year is this girl's favourite time of year. How does she celebrate? Watch and find out!
Do the preparation task first. Then watch the story and do the activities.
Preparation
Log in or register to post comments
English courses for children aged 6-17
Sign up to our newsletter for free learning tips and resources
We will process your data to send you our newsletter and updates based on your consent. You can unsubscribe at any time by clicking the "unsubscribe" link at the bottom of every email. Read our privacy policy for more information.

Immersion Program
Learn Chinese Online
Study Abroad in China
Custom Travel Programs
Teach in China
What is CLI?
Testimonials
The CLI Center
Photo Gallery
A Brief Guide to the Chinese New Year (春节 Chūnjié)
Learn Chinese in China or on Zoom and gain fluency in Chinese!
Join CLI and learn Chinese with your personal team of Mandarin teachers online or in person at the CLI Center in Guilin , China.
Perhaps the most important of all Chinese holidays , the Chinese New Year is celebrated worldwide each January or February in places like Hong Kong, Taiwan, Singapore, Malaysia, Thailand, Cambodia, the Philippines, and Mainland China.
Also called the Spring Festival (春节 Chūnjié), the Chinese New Year celebrates the beginning of the Chinese year based on the traditional Chinese lunisolar calendar and officially ends 14 days later with the Lantern Festival .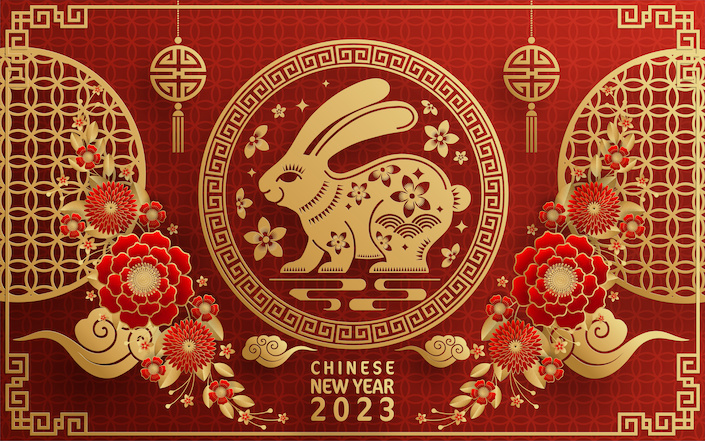 Table of Contents
How is Chinese New Year celebrated?
1. steamed fish | 蒸鱼 | zhēng yú, 2. new year cake | 年糕 | niángāo, 3. spring rolls | 春卷 | chūnjuǎn, 4. fruits | 水果 | shuǐguǒ, 5. dumplings | 饺子 | jiǎozi, 6. "longevity noodles" | 长寿面 | chángshòumiàn, 7. tangyuan | 汤圆 | tāngyuán, 1. 新年快乐 (xīnnián kuàilè) - happy new year, 2. 恭喜发财 (gōngxǐfācái) - may you have a prosperous year, 兔年大吉 (tùnián dàjí) - happy year of the rabbit (2023), 4. 岁岁平安 (suìsuì píng'ān) - may you have peace year after year, 5. 万事如意 (wànshìrúyì) - may all your hopes be fulfilled, 1. no cleaning, 2. no wearing black or white, 3. no cutting hair, 4. no breaking things, why is it called the "lunar" new year, chinese zodiac animal signs, the chinese new year through a local's eyes, chinese vocabulary for the spring festival, join a spring festival celebration and practice your chinese.
Spring Festival is a time for families to come together, exchange money-filled red envelopes (红包, hóngbāo) , and enjoy delicious Chinese food.
The Chinese New Year is a 15-day holiday and includes a variety of festivities depending on the region and its local traditions and customs. However, certain common customs are shared regardless of region.
For example, it is common practice to decorate one's home with Chinese lanterns . In many homes, you will find auspicious Chinese characters and couplets on red paper stuck on doors. Red is an auspicious color as it scares away the Nian monster . Wearing new clothes is also a common tradition to ward off bad luck—a new year is a time for newness after all!
View this post on Instagram A post shared by Chinese Language Institute (@studycli)
The Chinese New Year is an important time to 拜年 (bàinián, to pay a new year call), so it is common practice to visit relatives and exchange auspicious greetings and Chinese gifts , including the ever-popular lucky red envelopes filled with Chinese currency . Devoted Buddhist and Daoist practitioners also often visit local temples to welcome the new year.
The holiday has even had an influence on the traditional festivals of other cultures with whom the Chinese have historically interacted, including the Koreans, Vietnamese, Mongolians, and Japanese.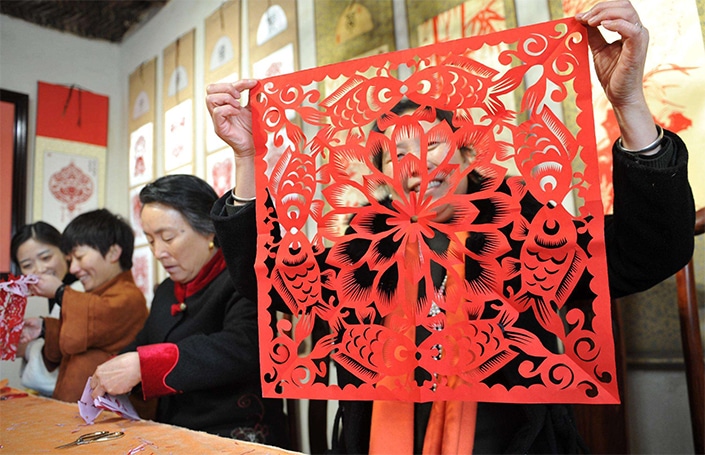 What foods are eaten during Chinese New Year?
Family is of central importance in traditional Chinese culture, and Spring Festival is generally a very family-oriented holiday.
The New Year's Eve dinner (年夜饭 niányèfàn) kick starts the tradition of family reunions. In fact, the Chinese Spring Festival also marks the world's largest human migration, as overseas Chinese and Chinese migrant laborers return home to celebrate the advent of the new year alongside their families.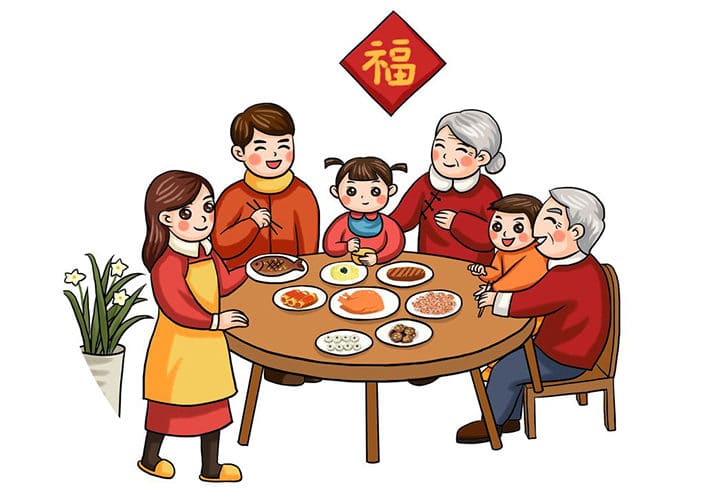 Though traditions can vary between northern and southern China, here are a few examples of common "auspicious foods" presented at reunion dinners:
As you may already know, the Chinese language includes many homophones (同音词 tóngyīncí), which results in many characters and words having the same pronunciation as one another.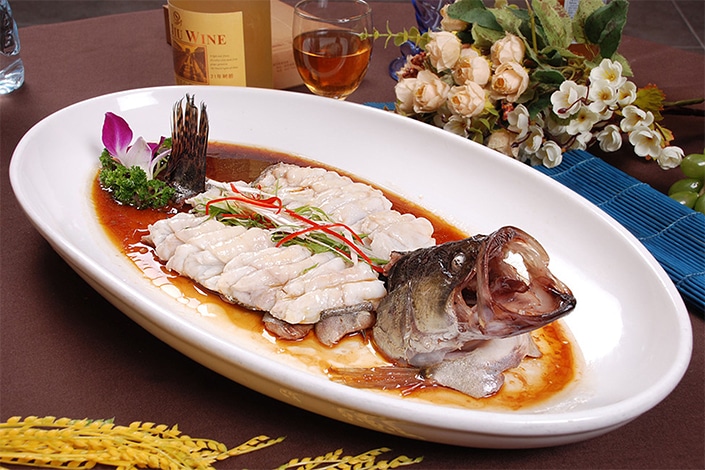 In this instance, "fish" (鱼 yú) has the same pronunciation as "surplus" (余 yú). There is also a typical New Year greeting, 年年有余 (niánnián yǒuyú), which translates to "may you have a surplus (of blessings) every year". Therefore, eating fish symbolizes an increase in prosperity.
Sticky rice cakes symbolize a prosperous year to come, as "cake" (糕 gāo) has the same pronunciation as "high/lofty" (高 gāo). This coincides with the greeting 年年高升 (niánniángāoshēng; "advance year after year"). Rice cakes are a must during Chinese New Year festivities!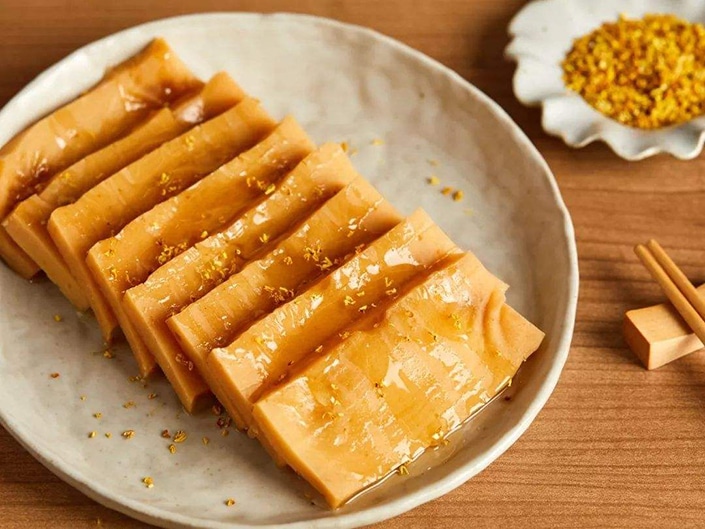 How can you start spring without spring rolls? This delicacy was originally a seasonal food that was consumed only during the spring. Eating spring rolls is a way to welcome the arrival of spring, and their golden color also symbolizes wealth and prosperity.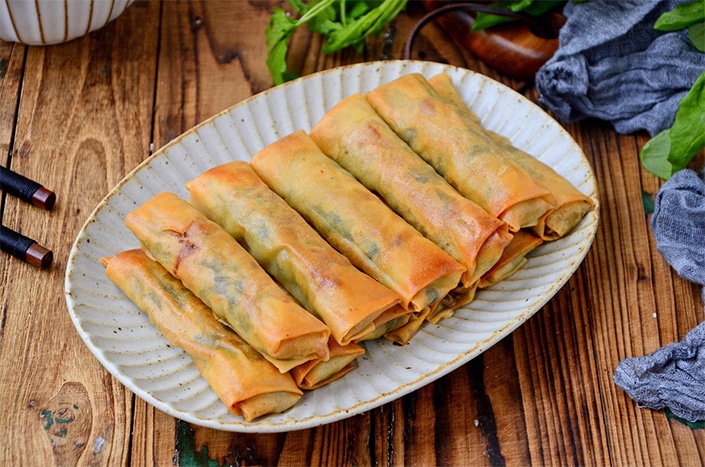 Fruits are commonly enjoyed as desserts and snacks during Spring Festival celebrations. They symbolize life and new beginnings and are also a common new year gift.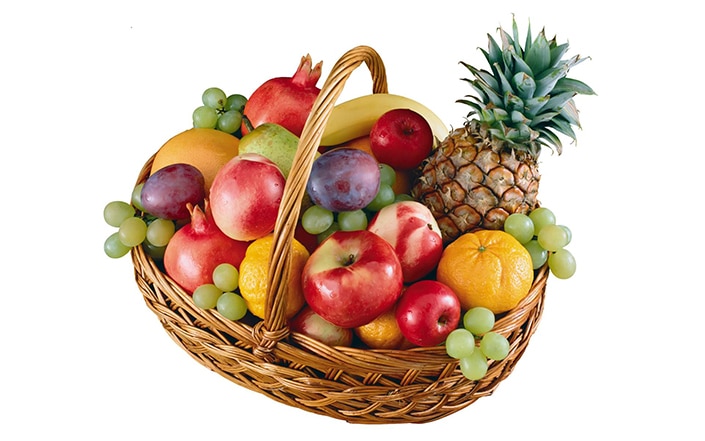 Due to their resemblance to imperial coins (元宝 yuánbǎo), dumplings are representative of wealth and fortune.
"Longevity noodles" are a kind of flat Cantonese egg noodles which are usually consumed during special occasions (such as the Chinese New Year and birthdays).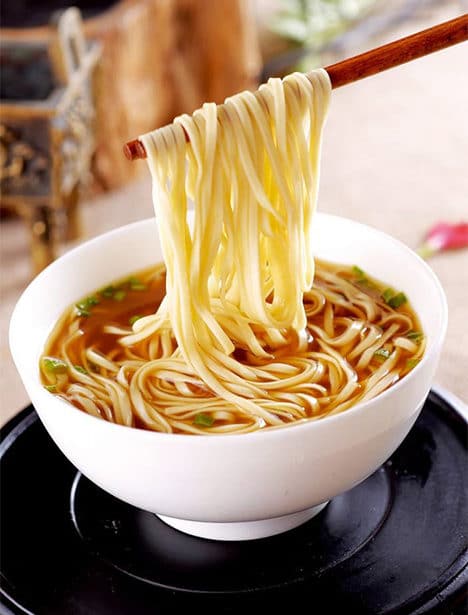 As their name indicates, their long strings represent longevity and living to a ripe old age. The trick is to eat them in a single mouthful and not cut the noodles short!
The fifteenth and final day of the new year holiday is celebrated by the Lantern Festival (元宵节 Yuánxiāojié). During this time, it is common to eat a Chinese dessert called tāngyuán (汤圆), which consists of sweet glutinous rice balls filled with a variety of fillings such as sesame, peanut, and red bean paste. Their round shapes represent togetherness and reunion.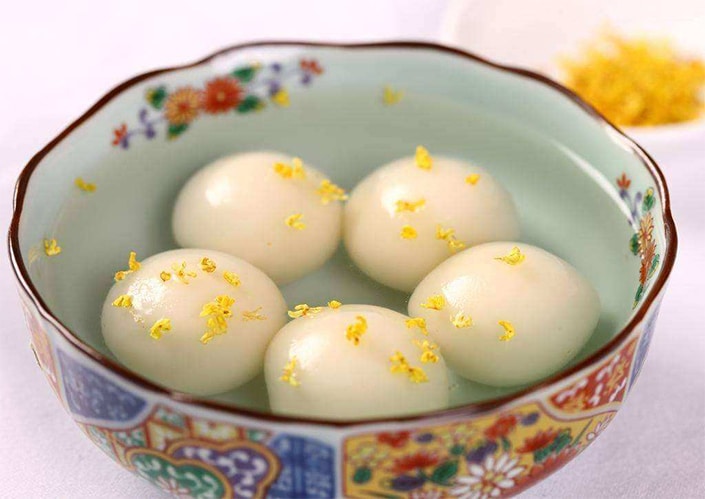 How to Say Happy New Year in Chinese
Would you like to wish a friend, colleague, or loved one Happy New Year in Chinese? Read on to learn this festive phrase and more!
Cultural note: In China, people often hold a fist salute or 抱拳礼 (bàoquánlǐ) when saying the below greetings. Remember that this method of greeting is mainly used during formal occasions, so we suggest to avoid using it during informal encounters!
Saying "Xīnnián Kuàilè" is the simplest and most straightforward way to wish your Chinese friends, family and colleagues a happy new year. Want to know how to pronounce it? Just watch the following video and repeat!
In addition to 新年快乐 (Xīnnián Kuàilè), this is probably the most popular saying you'll hear around the Chinese New Year. It has been the center of many 贺年歌曲 (hènián gēqǔ, Chinese New Year songs) and literally means "congratulations, make a fortune!"
Learn to sing along to the famous Chinese New Year song "恭喜" (gōngxǐ) in the following video.
大吉 (dàjí) is a noun meaning very auspicious or lucky. You can put any given year's zodiac animal year before 大吉 and use it as a general new year greeting. You can also simply say 大吉大利 (dàjídàlì), which means "good luck and great prosperity."
To learn how to say other year-specific Spring Festival greetings, see the Spring Festival Chinese Vocabulary List toward the bottom of this article.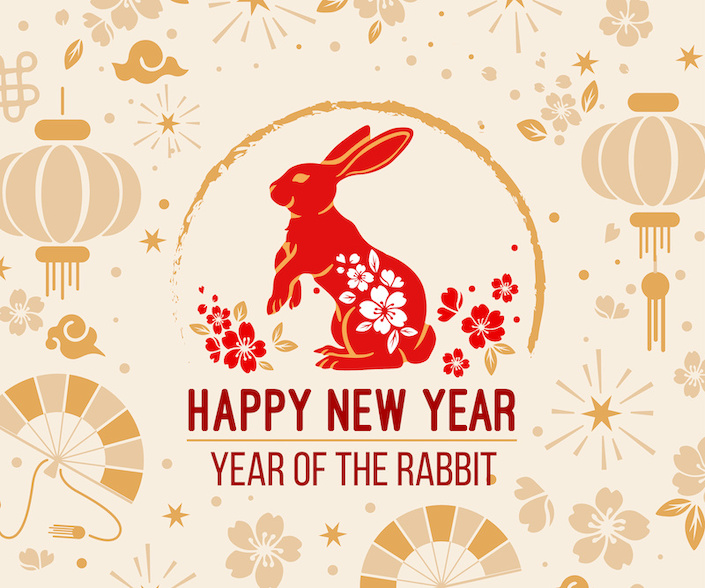 A fun things aspect of Chinese is wordplay based on 同音词 (tóngyīncí, homophones). A great example of this is 岁岁平安. Breaking things during the Chinese new year is a taboo in China as it is believed to bring bad luck resulting in money loss and a family split in the future.
If something does break, you can say "碎碎平安" (suìsuìpíngān) which sounds exactly the same as "岁岁平安" (suìsuìpíngān) . "碎" means to break, whereas "岁" means age or year and is the character used in 岁岁平安. This is a very clever way to negate all that bad luck!
万 literally means "ten thousand" or "a great number." When you say 万事如意 to your Chinese friends, you are literally wishing that all matters (万事, ten thousand matters/affairs) be according to his/her wishes (如意)。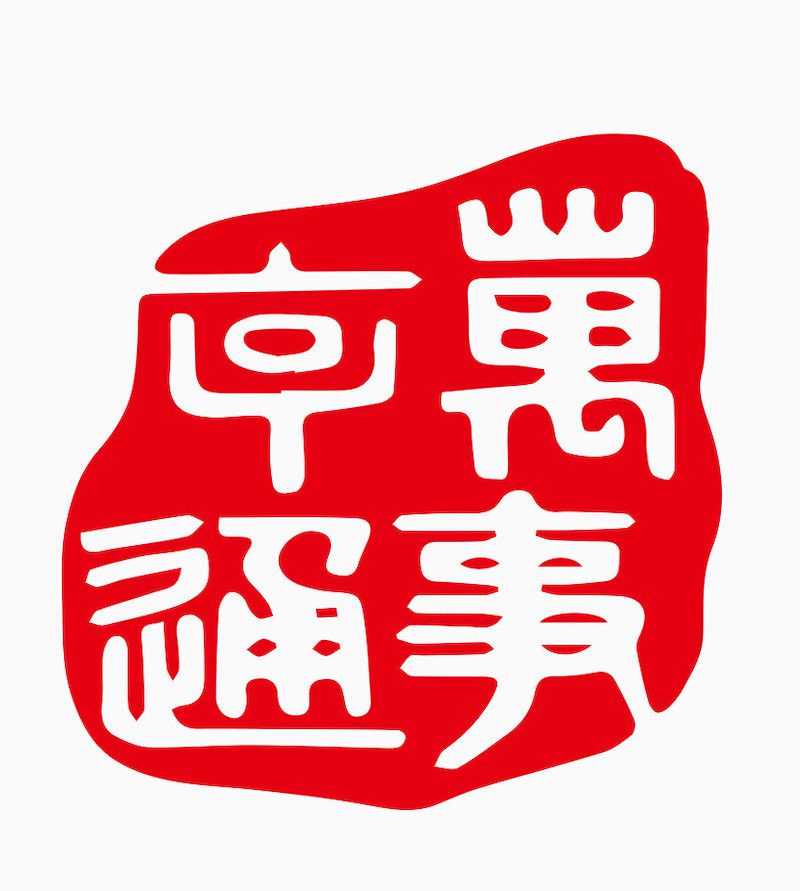 What are some taboos during Spring Festival?
All auspicious things aside, there are certain taboos that must be avoided during Chinese New Year:
Any type of "spring cleaning" must take place before the new year and never during the actual holiday. This allows the cleaned space to be filled with the new blessings and fortunes of the new year. Cleaning during the holiday consequently means that you are getting rid of these new fortunes!
In Chinese color symbolism, black signifies evil and white is the color of death and used for funerals. Instead, auspicious colors such as red and gold are often worn during the new year.
发 fā (hair) is also the character and sound for 发财 fā cái (to get rich), so cutting hair signifies a loss of fortune.
碎 suì means to break, whereas 岁 suì means age or year. If something does break, you can say "碎碎平安" (suì suì píng ān) which sounds exactly the same as "岁岁平安" ("may you have peace year after year").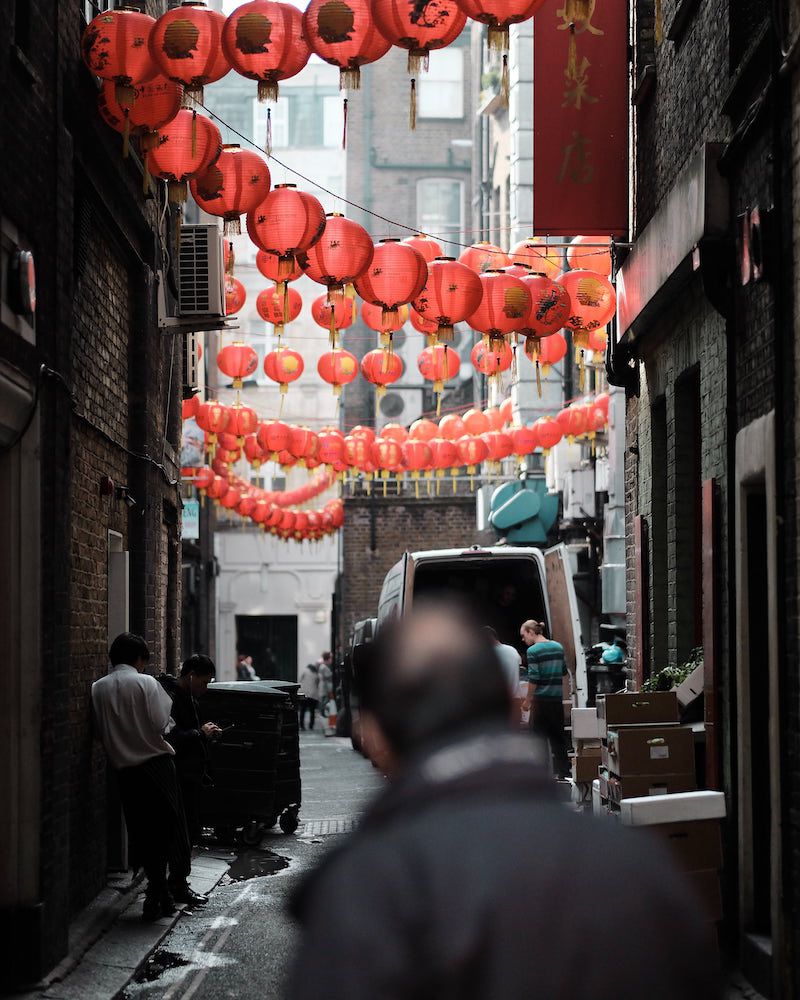 The term "lunar" is an English adaptation, mainly because the holiday starts with the new moon, ends with the full moon 14 days later, and is thus based on the Chinese lunisolar calendar . The name of the holiday in Chinese, 春节 Chūnjié, literally translates to "Spring Festival".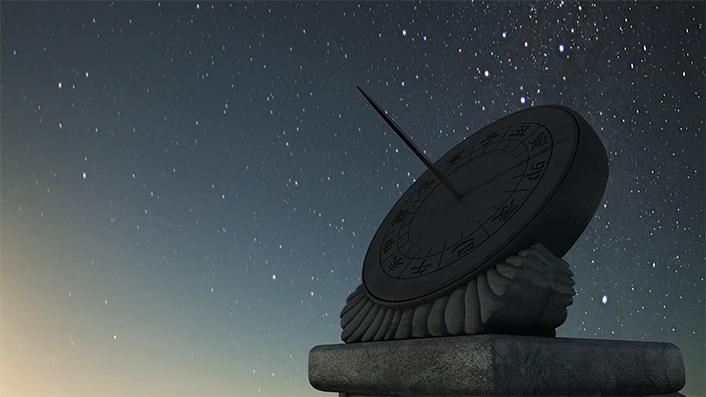 The Chinese New Year is also a time when the annual zodiac sign changes, meaning that each year is assigned to a specific zodiac animal. Zodiac signs play an integral role in Chinese culture. It is said that your luck regarding financial situations, health and relationships for each year can be calculated based on your zodiac sign.
To ask your Chinese friends and colleagues what their zodiac animal is, just say "你属什么? (nǐ shǔ shénme?)". 属 shǔ can mean "to belong to" or "to be born in the year of". In China, it is common to be asked how old you are or what your 生肖 (shēngxiào, Chinese zodiac sign) is.
In response, you can say: 我属 (wǒ shǔ) + insert animal. For example: "我属牛" (Wǒ shǔ niú, I was born in the Year of the Ox ). Consult CLI's article on the 12 Chinese Zodiac Animals for an in-depth look at this cultural phenomena and to find out what your own zodiac sign is!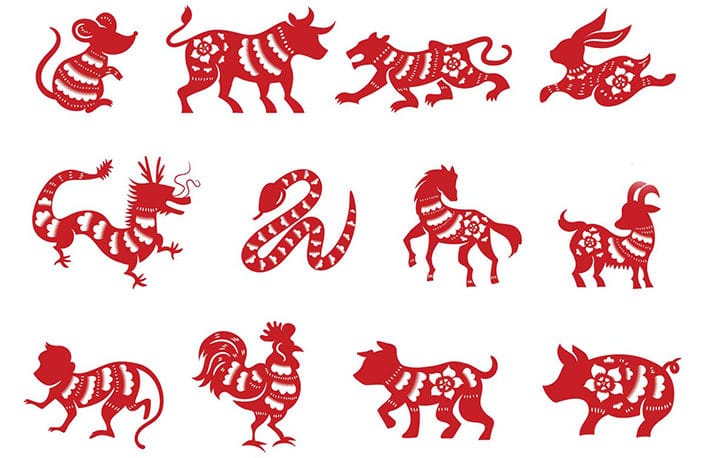 In our Spring Festival video, we invite you to peer into the life of a Guilin resident who walked the same arduous path traveled by so many in China from poverty to prosperity. Join Dayong, a CLI team member since 2009, as he converses with Uncle Ye (叶叔叔, Yè Shūshu) about how his quality of life has changed for the better over the decades.
While watching the video, follow along in this downloadable Chinese-English transcript for the Chinese characters, Chinese pinyin , and English translation.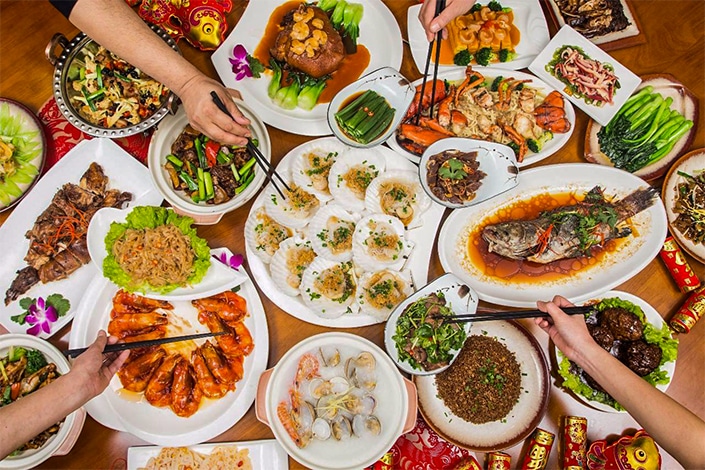 We hope this article helped you learn more about the Chinese New Year! It is truly a fun and festive holiday that is celebrated all across the world. Spring Festival is a time for family reunions, showing appreciation for one's friends, and delicious feasts.
If you are in China during Spring Festival, we hope you'll get to experience this important holiday for yourself by participating in some Chinese New Year activities with friends or colleagues. Keep in mind that many people will be traveling back and forth during this period as part of the famous Spring Festival travel rush (春运 chūnyùn). If you do plan to go anywhere during this period, especially by train , make sure to buy your tickets far in advance.
If you aren't in China, we encourage you to seek out your local Chinese community, attend holiday events, and even volunteer to help prepare for the Chinese New Year festivities. This is a great way to learn more about Chinese culture and to immerse yourself in the Chinese language .
And now that you know some Chinese New Year greetings, it is time to put them to use! On behalf of the CLI team, we wish you a wonderful Chinese New Year and welcome you to learn Chinese in China . 祝大新年快乐,身体健康,万事如意 !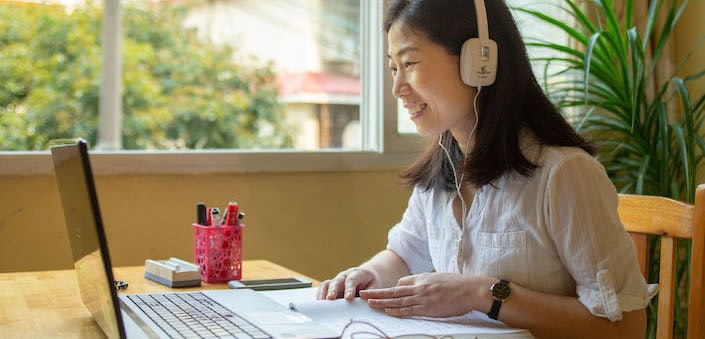 Free 30-minute Trial Lesson
Continue exploring.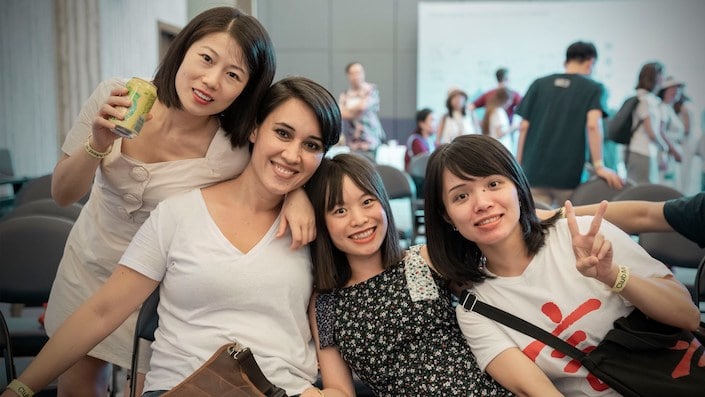 Copyright 2023  |  Terms & Conditions   |  FAQ   |  Learn Chinese in China
British Council
Eight ways to celebrate chinese new year in your school, by clare kelly and gemma squires, 11 january 2017 - 10:19.
As the Year of the Monkey ends and Chinese people around the world prepare to welcome the Year of the Rooster, Clare Kelly and Gemma Squires of  Dane Royd school in England  suggest how your school can join.
Not long ago, few people would have been able to tell the difference between the Year of the Rat and the Year of the Rooster. Now, thanks to China's rocketing economy, Chinese New Year has become a global celebration.
But beyond knowing which animal the new year represents, why should students learn about the festivities, and the culture that they draw on? In the UK, we have a significant  British-Chinese population : about half a million, if one includes  Chinese nationals studying in the UK . So Chinese New Year is an opportunity to gain insight into a community that is part of UK culture. As every teacher in the UK knows, understanding diversity is an important part of the curriculum.
In my school in Wakefield, in the north of England, we have been using the British Council's Chinese New Year pack for the last three years. Here are eight (a lucky number in China) activities that we have found work well to get your students excited about the event and to make them little 中国通 (Zhōngguó tōng) – that is, little Chinese experts.
1. Make Chinese New Year the theme of an assembly
Capture students' imaginations by introducing them to a traditional Chinese story in a Chinese New Year assembly. This year, the pack features the story of the rooster, the Dragon and the Centipede, which gives the Chinese take on how the rooster got his claws and the centipede got his legs.
You can bring the story to life by asking one class to prepare and act it out, using traditional music, costumes, and props, to make things more authentic. At our school, we have a collection of Chinese scrolls, umbrellas to dance with, and paper lanterns for decorations. These are all widely available in Chinatowns around the world. The children thoroughly enjoy opportunities to use them.
2. Make some Chinese shadow puppets
After the assembly, retelling the story with shadow puppets makes a lovely follow-up activity in class. This is easily done using a white sheet and a projector or lamp. Ask students to draw and cut characters out of card in silhouette, and attach the figures to a ruler or lollipop stick or cane. The shadow puppets can interact with each other as they tell the story.
The pack gives you a rooster stencil to get you started. You can find a dragon picture to use online, and maybe set your class the task of drawing their own centipede. Break your class into small groups and give them each a task, whether it's making the screen or one of the animals, writing the script for the animals, or playing a part in the narration.
3. Encourage your students to go deeper into the story
For children at key stage 2 (aged seven to 11), the shadow puppet activity naturally lends itself to re-writing the story. For children at key stage 1 (aged five to seven), you can create freeze frames by stopping the action at various pivotal points in the story, and then working in groups to find out what is in a character's mind and what their actions tell us about them.
You can also ask children to write character descriptions, using some of the details from the story. In my school, we like to ask questions that elicit more than 'yes' or 'no' answers, such as: why do these characters behave the way they do? How did the tiger get its stripes?
The story can be simplified for younger children. It can even be used for a reading comprehension lesson, as it contains many elements where the children need to find essential information in the text, and others where they need to read between the lines to understand, for example, why the rooster talks to the dragon in a particular way.
4. Decorate the classroom with Chinese paper cut-outs
The rooster stencil can also be used for paper cutting activity. This is a traditional Chinese activity that can easily be taught by a non-specialist. It can be adapted for all year groups, since the technique, once learned, can be made more advanced and intricate, but it is also a great task for younger children to develop fine motor skills. The traditional method uses thin red paper and can make an effective display. If you have a Chinese partner school, you can take this idea further by making Chinese New Year cards and sending them to your partner school.
5. Demonstrate how to cook authentic Chinese food
In England, food technology has been part of the curriculum since 2014, and food and healthy eating are also an important part of the curriculum in Scotland, Wales and Northern Ireland. At my school, we established a food technology classroom, which is widely used by all year groups, and we actively encourage our Chinese language assistant to cook with groups of children. Last year, they made a typical Sichuan snack dessert,  Tang Yuan : sweet sticky rice balls. Authentic ingredients are usually easy to find in mainstream and Chinese supermarkets. This year, our extra-curricular cooking club will follow the Chinese recipes included in the pack. Children can sample the food and evaluate the taste and texture, compared to what they had for tea last night.
6. Learn how to talk about food in Chinese
As part of our Chinese language scheme, we teach the children how to describe food and how to order their favourite dishes in Chinese. The pack contains a list of vocabulary for popular Chinese and Western food, which is a great way to start learning Chinese. It also includes the sound files, so you know how to pronounce the tones when practising with students.
In our school, we employ a Chinese language assistant to help us with authentic pronunciation, and many other things. But even if you don't have that sort of support, there are many useful study resources available if you want to learn some Chinese.
We use the  Kids Way to Chinese  app for iPad. It lets you listen to the pronunciation of words and see the Chinese script in tandem. We also access the Institute of Education's  Programme of Study for Primary Mandarin , which includes hyperlinked sound files and videos.
7. Compare eating cultures
The Year of the Rooster pack also includes some letters from Chinese young people talking about the food they eat at New Year. There is one particularly vivid piece, by a young girl from Sichuan, Yu Qiujin, writing about how she likes to prepare and eat a traditional Chinese hot pot with her family. She describes in detail the ingredients, method and spices used to create the dish.
In our school, students will read this letter and watch a YouTube video of hotpot being made. They can then compare it with the traditional meals eaten in the UK. We can also compare and share stories and photographs of home-cooked meals with our partner school.
8. Make a plan to keep it going
There are many ways that you can take forward your study of Chinese and make sure that this builds into something more than an annual celebration.
Creative activities that don't necessarily need a native speaker are often a good place to start. The children at our school really enjoy lessons in Chinese calligraphy and art, and have produced some wonderful work over the years. We have an art specialist who uses authentic brushes and ink to create bamboo paintings in her sessions, and a dance specialist who uses traditional music, dress and umbrellas to choreograph pieces with different groups of children. Each class examines a certain aspect of Chinese culture for half the term, then they come together to produce a whole-school assembly. We also like to invite parents and governors to celebrate this with us.
Another idea is to arrange for native visitors to come and speak to the children about China, and perhaps teach them some of the basic Chinese characters or numbers. This often sparks the children's interest, and as a good next step, you could consider setting up an extra-curricular club for those who want to learn the language. Taking this involvement further, you can  find a partner school in China via our Schools Online website, and employ a Chinese language assistant to support the school's action plan.
The first day of Chinese New Year is Saturday, 28 January 2017.
UK primary school teachers, download the  Year of the Rooster pack , and find out how to  employ a Chinese language assistant .
Find out more about the British Council's  Chinese language and culture programmes .
You might also be interested in
Is the Monkey King the world's most popular superhero?
Why native English speakers can learn Mandarin easily
Six ways to make your school more international
View the discussion thread.
British Council Worldwide
Afghanistan
Bosnia and Herzegovina
Czech Republic
Hong Kong, SAR of China
Korea, Republic of
Myanmar (Burma)
Netherlands
New Zealand
North Macedonia
Northern Ireland
Occupied Palestinian Territories
Philippines
Saudi Arabia
Sierra Leone
South Africa
South Sudan
Switzerland
United Arab Emirates
United States of America
Chinese New Year Celebration
Chinese New Year
Google Classroom
Microsoft Teams
Download PDF
We use cookies to enhance our website for you. Proceed if you agree to this policy or learn more about it.
Essay Database >
Essay Examples >
Essays Topics >
Essay on China
Good Essay On Chinese New Year
Type of paper: Essay
Topic: China , Chinese New Year , Family , Celebration , House , Happiness , Tradition , Dinner
Published: 02/20/2023
ORDER PAPER LIKE THIS
Chinese New Year is an event that is well celebrated by Chinese all over the world. The celebration is the most significant traditional Chinese holidays and the longest festivity in the Chinese Lunar Calendar. Statistically, during Chinese New Year known as Spring Festival, the Chinese communities hold parties to bid farewell to the past year and they welcome the New Year. During the Chinese New Year of 2016, I have witnessed the celebration with my friends. Particularly, I have experienced the celebration before the New Year's Day. The Chinese community with their families made everything ready for the great event. Before the New Year Eve, I observed that people were busy cleaning the house and everything inside the house. Chinese individuals believe that the complete cleaning the house signifies the removal of the old things and welcome the new things. When I asked my Chinese friend about the cleaning of the entire house before the New Year, he answered that it is one way to sweep way the ill fortune and to make way for the incoming good luck. Right after cleaning, I was amazed with all the decorations to welcome the New Year. Most of the decorations inside and outside the house, even on the street were red in color; especially the windows and doors were decorated with red couplets and paper cuts with the theme wealth, happiness, and long life. The most popular decorations were lanterns, dui lian, upside down fu, year paint, door gods, and paper cuttings. At the New Year's Eve dinner, it was the most significant dinner for the Chinese tradition. Normally, the dinner was the family reunion, especially for those families living away from home. Everyone was very happy greeting each other a happy new year and they were proud to share their culture and traditions. The younger ones greet the older relatives and friends. The food preparation was one of the best parts during dinner like fish and dumplings and other preferred dishes. I asked one of the Chinese visitors the significance of the food prepared, and then he explained that the dishes signify prosperity. The fireworks are part of the Chinese New Year tradition. I witnessed the beautiful fireworks display and listened to the traditional songs. Right after 12 midnight on the New Year's Eve, the fireworks were launched to celebrate the coming of the New Year. As a Chinese belief, the fireworks can drive away the evil spirit or elements. It is a belief that the individual who personally launched the first firework of the New Year will receive good luck and prosperity. After the New Year's Eve, most of the family members stayed awake the entire night. However, some individuals just stayed up after the fireworks ended. According to the elders, they used to wear red clothes, launched fireworks, light fires, and stay awake because the mythical beast will attack during the Eve of the celebration. Moreover, I noticed a red envelope with money in it and the Chinese named it, Red Packet. Usually, the red packets were given by adults, especially the elderly and married couples to younger children during the celebration. As a belief, the red packet will hold back the evil from the children, keep the children healthy, and provide them longevity. In addition, I noticed that most of the individuals were wearing beautiful dresses that I presumed new clothes. I would say that doing this tradition marked the start of new life, a new period of their lives. I was impressed how they follow all the traditional customs and beliefs. I believe that the Chinese New Year is a great time for forgetting all grudges, to reconcile, and truly wish good health, peace, longevity, and happiness for everyone. Indeed, the Chinese culture is rich and its creative expressions. All the preparation, food, and ceremony are breathtaking. The celebration is a major holiday and it influences other people who join the celebration about the rich culture and tradition of the Chinese community.
Works Cited
Chinese New Year Traditions. About Us: Chinese New Year Traditions. 2016. 29 February 2016 <http://www.chinesenewyears.info/chinese-new-year-traditions.php>. Sabur, Rozina and Cameron Macphail. Happy Chinese New Year! 17 February 2016. Web. 29 Feb 2016. <http://www.telegraph.co.uk/news/worldnews/asia/china/12148312/chinese-new-year-2016-year-of-the-monkey-chinese-horoscope-zodiac-lunar-new-year.html>. Zhang, Hong. "Celebrating The Chinese New Year." China Today 65.2 (2016): 68-70. Academic Search Complete. Web. 28 Mar. 2016.

Cite this page
Share with friends using:
Removal Request

Finished papers: 387
This paper is created by writer with
ID 280586379
If you want your paper to be:
Well-researched, fact-checked, and accurate
Original, fresh, based on current data
Eloquently written and immaculately formatted
275 words = 1 page double-spaced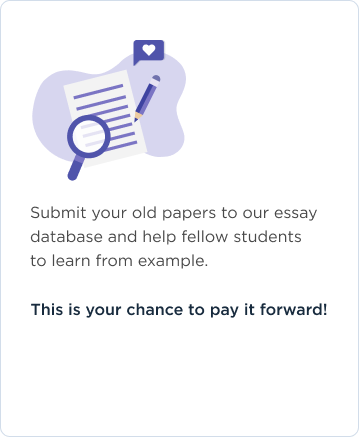 Get your papers done by pros!
Other Pages
Good example of essay on the things they carried, good article review on technology, free essay about understanding the stab in the back legend, research paper on customer relationship management, example of essay on difference between new media and the media that preceded them, good dax case movie essay example, dealing with emotions at work essay, environment dissertations, investment dissertations, obtaining research papers, joining research papers, extracorporeal essays.
Password recovery email has been sent to [email protected]
Use your new password to log in
You are not register!
By clicking Register, you agree to our Terms of Service and that you have read our Privacy Policy .
Now you can download documents directly to your device!
Check your email! An email with your password has already been sent to you! Now you can download documents directly to your device.
or Use the QR code to Save this Paper to Your Phone
The sample is NOT original!
Short on a deadline?
Don't waste time. Get help with 11% off using code - GETWOWED
No, thanks! I'm fine with missing my deadline
[ November 3, 2023 ] Gotthard tunnel derailment: repair work extended until September 2024
[ November 3, 2023 ] Namibia secures AfDB loan for rail upgrade project
[ November 3, 2023 ] Alstom secures CrossCountry train service contract
[ November 3, 2023 ] Brno orders additional Škoda trams
[ November 2, 2023 ] EC approves Thales GTS acquisition
Moscow Metro to complete stations modernization works this year
August 13, 2015
Moscow Metro is continuing the modernization of 96 metro stations project. The plans by the end of 2015 include conducting…...
RECOMMENDED EVENT:
Copyright @RailwayPRO Communication Platform. All rights reserved
For more audio journalism and storytelling, download New York Times Audio , a new iOS app available for news subscribers.
How the events of that fateful year shaped the Israeli-Palestinian conflict for decades to come.
This transcript was created using speech recognition software. While it has been reviewed by human transcribers, it may contain errors. Please review the episode audio before quoting from this transcript and email [email protected] with any questions.
From "The New York Times," I'm Michael Barbaro. This is "The Daily."
As the Israeli-Palestinian conflict enters its darkest chapter in decades, both sides are evoking the same foundational moment in their past, the events of 1948.
Today, I speak with David Shipler, the author of a book about the conflict and a Jerusalem Bureau Chief for "The Times" at a crucial moment in our understanding of 1948 about the meaning and the reality of what happened that year. It's Friday, November 3.
Hi, Michael.
I really want to thank you for making time for us.
My pleasure.
So David, in this war between Hamas and Israel, it's feeling extremely important to understand the meaning of 1948, the year when Israel declared itself a nation, was attacked by its Arab neighbors, and waged a war of independence that displaced Palestinians on a large scale. Right now, Israel's prime minister, Benjamin Netanyahu, is describing this current war as a second Israeli war of independence, a second 1948.
Palestinians in Gaza are invoking 1948 themselves to describe this current conflict, because of the potential for another massive dislocation from their homes.
That's right. Yes.
But it feels like for any of these references, these claims and counter-claims, to really make sense, we need to understand why Palestinians, why Israelis, are invoking this year and what stories they tell themselves about what 1948 means. And then, of course, we need to understand what actually happened that year. And David, you arrived in Israel as the bureau chief there in the late 1970s. And so I'm curious, when you took this job, what were the ways that both Israelis and Palestinians talked about 1948?
Well, when I arrived, there were two clashing narratives, not overlapping at all. And when you go to the Middle East, you see immediately how people are imprisoned by history, especially in the Israeli-Palestinian conflict. And I kind think of it as an arsenal of memory, that historical events that happen — and we're in the middle of one right now — they get really chiseled in stone, in terms of the way people think about themselves and about their adversaries.
And the Israeli-Palestinian conflict is full of these markers of history. 1948 is one of the most important ones — and what Israel calls its war of independence and what the Palestinians call Nakba, the catastrophe. I mean, the thumbnail sketch of what happened is that in May of 1948, Israel declared itself a sovereign state and immediately was attacked by a crescent of five Arab countries, which erupted into that war of independence, as Israel calls it.
And that war created the kinds of upheavals that wars do.
And every year, we can see the clash of historical narratives about this particular event vividly. Because Israel celebrates a double holiday, and Palestinians mark the event in a different way.
So Israel has, first, a day of remembrance or a memorial day. And it is a somber day. A siren sounds. People pull over to the side of the road. People stop walking in the street, and they stand for a minute or so in honor of the fallen soldiers and those who died in terrorist attacks. And then, the next day is a day of celebration, the celebration of Israel's independence.
But on May 15 every year, the Palestinians do what Israelis do on their memorial day. They stand in mourning, silently, to remember that event. So that is the sort of graphic, dramatic illustration of how the two peoples remember that war of 1948.
Well, describe the two conflicting, contrasting narratives.
Well, the key of the Palestinian narrative is the idea that all of the Arabs who left what is now Israel during the 1948 fighting were deliberately expelled by Israeli forces. The numbers are roughly 700,000, and they fled into neighboring countries. The Israeli narrative, for many years, and certainly at the time I arrived, was that no Arabs were actually expelled by the Israeli forces.
They left of their own accord, either to flee fighting, as people do in wars, or because Arab leaders advised them to leave, pending an Arab victory, after which they could return home. So the Israeli narrative is one of moral purity, because they were fighting for their existence as an independent state against Arab armies. And the Palestinian narrative was also one of moral purity and that they saw themselves as purely victims, being expelled deliberately by Israel from land they felt was rightfully theirs.
And this is no small dispute — the narrative conflict that you have just described.
No, it goes right into the present. In fact, right now, you see many Palestinians who have been urged by Israel to retreat south from northern Gaza to southern Gaza, summoning up this idea of displacement and worrying that they're not going to be allowed to come back. It's a current issue. And it translates into a yearning to return on the part of Palestinians.
Right, a sentiment that we have heard over and over in talking to Palestinians in Gaza over the past few weeks.
Yes. And I came across this years ago, when I was in the Jabaliya refugee camp in Gaza, a place which is being pummeled now by Israeli bombing. And I was sitting around with a few guys who were in their 20s, and a kid came in. He was a lanky boy of 12.
And somebody asked him where he was from. Now, he had been born in the Jabaliya refugee camp, but he didn't say that he was from there. He said, Barbarit, Barbarit. I said, I never heard of Barbarit. Well, hm, a couple of these guys kind of smiled and explained that it had been an Arab village up the coast that had been demolished, really, during the '48 war.
And his parents and grandparents, as it turned out as we talked more, had left that village more than 30 years before at that point. And yet, this kid said that that was where he was from.
That brought home to me how alive the yearning to return was and how Palestinian children were being taught that they were from Arab towns that had been emptied, or almost emptied.
Some had been destroyed. Some had been converted into Jewish towns, places that now, given the circumstance, they could not return, because Israel would not let them. And yet, that was the dream — to go back to those places someday and live there again, perhaps in the beautiful way that their nostalgia and the family lore described where the orchards were more fruitful than, probably, in reality, where life was more peaceful than anything they had experienced and more prosperous. So that was the dream, and it still is. It still is.
So what this boy's answer to your very simple question tells us is not just how ingrained these narratives have become but how they are passed down, generation to generation. Like you said, this boy was not born in that town in Israel. He's probably never even been there. But in his mind, that is the only conceivable answer to the question of what is home.
That's right. It's an idea, and the idea is alive and well and very motivating for many Palestinians.
When you arrive in Israel, are you finding comparable versions of an ingrained narrative there around what 1948 and the birth of Israel looks like?
Absolutely. The narrative of the '48 war was a very noble story from the Israeli standpoint. Jews were refugees from pogroms and the Holocaust in Europe. They had come to their biblical land, where there had been a Jewish presence for thousands of years. And they had created a state.
And their victory was to be celebrated and to be kept in their history and their memory as a time of great accomplishment, with all the moral purity that you could imagine. So there was no real questioning, in most of the population, about the virtue of the 1948 War. And the details of it were all kind of good.
I mean, they treated the Arabs well. They were nice to them. They didn't force them out. Some places, they even urged them to stay. In Haifa, there's a story about that — that Arabs in Haifa were urged to stay, not to flee.
And all of that — I mean, that's all part of the Israeli narrative. I remember vividly a convention, a meeting, that was in Jerusalem — the first gathering of Holocaust survivors. They've had more since.
And the theme was to pass the torch of memory to their children. Many of the Holocaust survivors had not talked about their experiences. The memories were too painful and too ugly to share with their children.
And so they came, and their children came. And they did talk with them, and they wanted to talk about all their experiences with me, too. As I walked with a tape recorder through the convention hall they would flock around me, and they would pull me aside. And you know what the theme was that many of them wanted to strike in their accounts? The theme was resistance.
We did not just go willingly like lambs to the slaughter. We resisted. And here's how we did it. We carved out our zones of agency, so to speak. And that conformed with the Israeli idea.
Of 1948. To create the state and to resist and to be strong. Jews were no longer going to be massacred, and they were no longer going to be slaughtered. They were no longer going to be gassed and imprisoned.
They were going to fight back. They had the weapons. They had the will. They had the strength. We are here. This is where we will stay. We are not going anywhere. So this, to me, represents the core of the Israeli Jewish attachment to that history.
OK, so these are the two very ingrained, seemingly immovable narratives that you're absorbing in your time in Israel.
Yes. That's right. And when I first got there in 1979, I came with a sensitivity to how people can manipulate history. I had been in Moscow for four years, where I saw Soviet authorities do that distort history to suit their ideological preferences, their political ideas. And I got really interested in that whole subject how kids learned history in their schools, how the media portrayed it.
So I was tuned in on that. And soon after I arrived in Israel, I got a call from a guy who said he wanted to meet me and talk to me about something. I said, who is this?
He said, I can't say. I said, well, what's it about? He said, I can't say. I said, I thought I'd left Moscow, where this kind of thing happened all the time.
But I did meet with him. His name was Peretz Kidron, and he turned out to be the translator of Yitzhak Rabin's memoir from Hebrew to English. And the translator gave me the manuscript. And he was very upset that the censorship committee, to which all former officials had to submit manuscripts, had deleted several paragraphs, which completely changed the Israeli narrative of the '48 war.
Huh. Explain that. And just put into context who Rabin is.
Well, Itzhak Rabin had been prime minister. But at the time, he was in the opposition. He had a lot of time on his hands, I think, and he wrote this memoir. And it was very detailed. It was a good memoir.
And Rabin was commander of the Harel brigade of the Haganah. That is the Jewish forces in the '48 war. And as commander of the Harel brigade, in his description, he and Yigal Allon, who was later to become foreign minister, wanted to know what they should do about the civilian population in these two Arab towns near Tel Aviv — Lod and Ramle.
They asked David Ben-Gurion, the first prime minister of Israel, what should they do? And Ben-Gurion didn't answer. Didn't answer. And then, he finally took them outside and made a gesture with his hand as if to say, drive them out.
In other words, drive them out. Expel them. Kick them off the land.
That's right. And here's what Rabin wrote. "Driving out is a term with a harsh ring. Psychologically, this was one of the most difficult actions we undertook. The population of Lod did not leave willingly. There was no way of avoiding the use of force and warning shots in order to make the inhabitants march the 10-to-15 miles to the point where they met up with the Legion, meaning the Arab Legion."
And then, he goes on, and he says, "The inhabitants of Ramle watched and learned the lesson. Their leaders agreed to be evacuated voluntarily on condition that the evacuation was carried out by vehicles. Buses took them to Latrun, and from there, they were evacuated by the Legion."
And Rabin writes that some of the Israeli soldiers refused to do it and that psychological counseling had to be done for the Israeli soldiers afterwards. Because it was such a traumatic experience for them, not to mention for the Palestinians. Now, that was a complete reversal of the standard Israeli narrative, which was that at the time, no Arabs were deliberately expelled by the Israelis.
Right. And this is a disruption of a very popular, widely held narrative, not just by some random soldier, but by Yitzhak Rabin.
Yes. By Yitzhak Rabin.
But of course, from what you're saying, this translator tells you that that has been censored out.
He says it's been censored out. He gave me the manuscript. And of course, I didn't the translator and how honest he was. So I figured I needed to confirm this.
And so I called Rabin, and I went to see him. I had never met him before. This was the first time. I hadn't been in Israel long.
And I put a tape recorder on his desk. And he said, well, let's do this on background. And I said, fine. But I do have one on-the-record question I have to ask you.
And I told him about this account that I'd seen in the manuscript. And he said, well, I can't talk about it. And I said, well, why do you think they cut it out? He said, I don't know. I was surprised. Bingo. I had my confirmation.
And then, he went on to say, with a little sardonic grin, I gave the censors things to do. I wrote about Israel's nuclear weapons, for example. And I knew they'd cut that out. But I was surprised they cut this out.
So in a somewhat roundabout way, Rabin confirms to you that he did write this account of expelling Palestinians in the 1948 War, that it was true, but that the Israeli government censored it out, which makes sense, given what you just said about how powerful these narratives are.
Yes, that's right.
So what did you do with this information?
Well, I wrote a story for "The Times," and included in it the entire section of the manuscript that had been deleted by the censor.
And I thought, well, this is going to make a big splash in Israel. There's going to be a lot of comment on this. And Israelis are very introspective, and they'll look at this and say to themselves, wow, this is quite something. I didn't know this.
But instead, what happened was, it was a kind of muffled response. It was an effort to minimize the possibility that this really happened or to diminish its significance in terms of scope. That is, oh, a couple of towns —
What you're saying is, narratives don't easily crumble.
Narratives are very, very firmly embedded in people's need to believe things. But what happened a couple of years later was that the foreign ministry declassified documents from the 1948 War. And an Israeli journalist-turned-historian, Benny Morris, mined those declassified documents in a thorough way and wrote a very significant book detailing the towns and villages from which Arabs were expelled, those from which people just fled of their own accord, perhaps, or to get out of the way of the fighting — all of that.
So he managed to take the Israeli narrative and inject it with all of the complications and nuances that every war contains. But even though the fact that there were expulsions has been now documented, that doesn't mean that the clash of historical narratives has been resolved. Not at all. Not at all.
And so I became very interested in exploring what actually happened during that war.
We'll be right back.
David, once the door opens to a reinterpretation of the narratives around 1948, and we get all this reporting and declassification of documents, and a kind of truer version of events emerges, what do you actually understand to have been the accurate story of 1948?
Well, to go back a little bit before 1948, to set the stage, it's important to understand, as Israelis will point out, that there was, basically, an unbroken Jewish presence in the Holy Land from biblical times. There were very intense religious communities in Jerusalem, in Hebron, now in the West Bank, in Safed in the Galilee.
And in the 19th century, late-19th century, more Jews began to come from both Arab countries and from Europe, and also in accordance with a movement, a cause, an idea called Zionism, which was developed as the notion that there should be a Jewish state, independent, strong, on that ancient land. And at that time, that area of Palestine, from the Jordan River to the Mediterranean, which is the land in dispute, was ruled by the British under a mandate that had been decided on by the League of Nations in the wake of World War I, when the Ottoman Empire was defeated.
The predecessor to the United Nations.
That's right, the precursor to the United Nations — the League of Nations. So the British-ruled Palestine under that mandate. The Jews who came to live in that area in those years, before World War II even, encountered a mixture of reception by Arabs who had lived on that land for generations. They were not newcomers.
And they were a mixed group, so to speak. I mean, there were Muslims. There were Christians. There were Druze, a religion that keeps its tenets secret. There were Bedouins, who are semi-nomadic.
So it was a mixture of Arabs of different affinities and different family lines and not necessarily identifying themselves with the word, Palestinian. That identity, that label, developed later. But nevertheless, they were attached to their land — I mean, their birthplaces, their families' birthplaces.
And when Jews came in from Europe, many of the Arabs saw them as interlopers, aliens, colonialists, as they had seen the British — even though, for Israeli Jews, the notion that they're colonialists, or were at that time, is very odd and foreign. Because it wasn't that there were French who were in Algeria who could just go home, or Brits in India who could just go home.
That was their home. That was their new home. They had no other place. And some of the Jews were mostly farmers at that point. I mean, they were forming kibbutzim, you know, were trying to find places on what they consider to be empty land.
But in some cases, the land was grazing land. It might not have been cultivated, but it was used for grazing for goats and so forth. So the very presence was considered somewhat aggravating to some of the local Arabs, and that was not a welcome development from the point of view of many of the Arabs.
So there was a Zionist movement, a push for a Jewish State, long before World War II and the Holocaust.
Yes, that's right. You know, World War II ended in 1945. 6 million Jews had been slaughtered by the Nazis. Many, many others had feared for their lives and become refugees. And internationally, there was a great sympathy for the Jews and for the idea that they ought to have a refuge, a homeland.
And a natural homeland, according to the Zionists, was in the biblical lands. So in 1947, the United Nations passed a partition plan dividing that land between the Mediterranean and the Jordan River into two states, an Arab state and a Jewish state.
Take this British-controlled land, and basically give some to these Jews who were there and some to the Arab population that was there.
That's right, exactly. And if you look at the boundaries of that partition plan in 1947, it looks like a gerrymandered congressional district. But they basically followed the lines of the Jewish population in the area, and they left out of the Jewish state areas that were mostly Arab. But there was mixture on both sides.
I mean, there were certainly Arabs in the parts that were designated as a Jewish state. What happened then was that the Jewish forces accepted the partition plan, and the Arabs did not. The Arabs within the area rejected it, and Arab countries rejected it.
The Jews accepted this partition, from what I've read in history, because they felt fairly weak, militarily, and figured this was as good as they could get. And they were going to get a state. And I think there was a sense that the Arab countries thought that they were superior militarily and could easily defeat this ragtag army that was getting its weapons from Czechoslovakia, mostly.
They did not get any weapons from the United States, by the way, at that time. The US was trying to stay out of it. You know, it had a little kind of skeleton of an air force, but it wasn't going to be much of a foe, a real opponent. I mean, they could get rolled over.
And I think that was probably the assumption at the time. And also, there was just, from inside, to the — local Arabs didn't want this Jewish state either, because they were interlopers. They were Europeans coming in, foreigners, not indigenous to the land, and therefore, had no real right there. They were not accepting of that. And in May of 1948, the time at which the mandate by the British was to end, the British withdrew, and Israel declared its independence, and then was attacked.
Yes, that's correct. Arab armies from Lebanon, Syria, Jordan, Egypt, and Saudi Arabia, too, which sent a unit under Egyptian control, attacked. And the 1948 War began.
And what happens once the Arab neighbors of this new nation of Israel attack?
There was a lot of fighting, and the fight went on from May of 1948 until early in 1949. And the Israelis turned out to be stronger than the Arabs thought they would be. And they were effective enough to defeat the Arab armies and roll them back and actually expand the boundaries of what became Israel beyond what the partition plan had provided.
Now, what they didn't get at that time was the Gaza Strip, which was in the hands of Egypt. That remained in Egyptian hands. And they didn't get the West Bank of the Jordan River, which was in the hands of Jordan and remained so until the 1967 war. And they also didn't get all of Jerusalem.
And David, now that we're not just speaking about narratives but about established historical facts, what happens to the Arabs on the lands that are in question during this period when Israel is achieving these victories against these Arab countries?
So it's true that an estimated 700,000 Arabs left what is now Israel. And they did so for a variety of reasons. Some fled the way people do in war, which is just to avoid the fighting. And some fled because Arab leaders told them to get out, pending a victory by the Arab forces, after which they could come back.
Some were expelled deliberately, as we now know, by Israeli forces. Some fled because they were afraid that they would be massacred. And there were massacres of civilians by Israeli forces. The most infamous was Deir Yassin, a village right on the outskirts of Jerusalem. And that was known before the declassification of Israeli documents.
But once those documents became available, Benny Morris found about two dozen places where civilians were massacred. And that scared a lot of other Arabs who heard about them. And even where there was no violence or demands that they leave, people fled, because they were afraid that the Israeli forces coming in would massacre them.
So those are the reasons, the basic reasons. And what the Palestinian narrative has done is to put all of the departures in the category of deliberate expulsion. And that is an exaggeration. But all the other reasons that people left don't really lessen the pain that has been passed down, generation to generation, by the Palestinians, which still animates their cause and fuels their desire to return.
So not only did Israelis expel Palestinians, despite the narrative that they didn't, some Israelis participated in the killing of Arab civilians during this conflict.
Yes. And when all of this information is disclosed from these declassified documents in the archives, it reveals that the Israeli myth is just that. It's a myth. It's very sanitized. By the way, the Palestinian myth is also a myth. So you have this clash of narratives, which you could also call clash of myths.
Right. So to that point, when we think about that Palestinian narrative, that claim inherited through many generations, that the 700,000 Palestinians who left Israel were expelled from their homes during the creation of Israel, the story you're saying is more nuanced. It's more complicated than that. In part because Israel was attacked and attacked back, and there's an open war.
Like you said, some Palestinians are leaving for fear of that war. Some are leaving because they are being expelled. Some are leaving because they fear that they could be expelled or, worse, massacred. And there's no doubt that all forms of that kind of dislocation have to be wrenchingly painful.
But in a conflict where the details matter and are constantly being litigated, the historical record, from what you're saying, makes clear that not all 700,000 Palestinians were expelled forcibly by Israel, as a matter of policy. It might be more accurate to say that many of these Palestinians had to leave their homes as a result of a war.
I think that puts it very well, yeah. I mean, there are lots of reasons that people left. The war at the core of it, of course. And it's pretty ugly, war is. Terrible things happen, and they did in 1948.
Now, in some places, they were allowed to come back. But most of the Arabs who left or were driven out during the '48 War were never allowed to return to their homes inside what is now Israel. It's probably worth noting also that many Arabs did not leave, and stayed in Israel, and now, they and their descendants make up about 20 percent of Israel's population.
So David, at the end of the 1948 War, when Israel emerges victorious, what does the world look like for both of these peoples is rallies as well as Palestinians who have, through a combination of expulsions and flight, are not on their lands?
Well, at that point, they were trying to build up their resilience and build up their economy and fulfill their dream of building a Jewish state. And it wasn't just Palestinians who were displaced. Many Jews living in Arab countries were expelled by those countries and fled of their own accord sometimes. Most ended up in Israel, and the results of that population shift are seen in Israel today, where at least 1/2 of the population are now descended from Jews who lived in Arab countries.
And the Palestinians?
Well, the Palestinians were scattered into a diaspora in many countries around the world. But the bulk of them, at least at first, ended up in refugee camps in Lebanon, Syria, Jordan, which controlled the West Bank at the time, and in the Gaza Strip, which was under Egyptian control. So that diaspora, so to speak, which ended up in the refugee camps, is still conscious of its origins and has passed down, through the generations, the story of displacement.
David, why wasn't there a creation of a Palestinian state after Israel's victory? Because there are still these people who had been promised, through the partition, a country, just as the people of Israel have been promised a country. Why didn't a Palestinian state emerge in the aftermath of this war?
Remember that this was a war not between the Palestinians and the Israelis. This was a war between Arab countries and the new state of Israel. So at the end of the war of '48, armistice agreements were signed that established the borders of Israel. And what wasn't Israel was Arab states.
So there was no talk that I'm aware of creating a so-called Palestinian state. I don't know that the concept was in the conversation at that point. Through the years, despite lip service given to the Palestinian cause by Arab leaders, their interest in supporting that cause has been — aside from being rhetorical, has really been wanting. The Palestinians were not accepted as citizens, by and large, in the Arab countries where they fled. Palestinians have been victims of the Arab world as well as of the Israelis.
And what is life like for these Palestinians as refugees in the period after the war?
The population was very impoverished. The refugee camps began as tent camps. They're still called camps, although that's a misnomer. They've become established slums.
The poverty rate is still fairly high. It's very difficult for Palestinians to have a comfortable and prosperous life when they're confined to the camps. And lots of Palestinians have left the camps and been able to emigrate to various countries in Europe, the United States.
And so those folks are doing better. But it's not so easy to get the visas. It's not so easy to accumulate the money to make that change. And there's an ideological resistance to doing it, too.
I remember at one point, when I was there, Israel wanted to build housing outside refugee camps in Gaza, and the local Palestinians rejected the idea vehemently. Because they thought it was an effort to undermine their status as refugees to, basically, do what's now called normalize the occupation. So there's a whole history of attempting to keep alive the idea of displacement, the refugee status, and the yearning to return.
And from the Israeli point of view, the idea of return for these Palestinians represents what?
A threat to the existence of the Jewish state, for two reasons. One, the Jews would be outnumbered by the Arabs in the voting rolls. Right now, if you take the West Bank and Gaza and Israel proper altogether, and East Jerusalem, the population division is about even, maybe even slightly tipped toward the Arab side. So if it opened pluralistic, fair, free democracy, Arabs would outvote Jews.
So that's one issue. The other is the security concerns. I mean, we've just seen it in the Hamas attacks, where Israeli Jews were attacked in their homes and their kibbutzim. And the notion that lots of Palestinians would be allowed to come in and live inside Israel terrifies Israelis.
David, we've spent a lot of time here, trying to understand narratives and reality. But the more time you spend understanding 1948 and the context surrounding it, it seems the thing that becomes very clear is that Palestinians and Israelis emerged from it with a strong claim to being victims. Israelis are victims of Arab countries seeking Israel's destruction at the moment of its birth and the forces of anti-Semitism that led to the Holocaust and, in the minds of so many Israelis, necessitated Israel in the first place.
Palestinians are victims of the war that results from Israel's creation, including Israeli tactics that forced many of them from their homes and, later, by the rejection that Palestinians faced from their Arab neighbors. And the fact that Israel won the war and Palestinians and their allies lost doesn't really change their view of themselves as victims.
Exactly right, Michael. Exactly right. They are both victims. I remember an Israeli telling me once, when you put two victims together, it's like mixing fire and kerosene. Neither side recognizes the other's victimhood, although you have to say that there are some Israelis who do see the Palestinians as victims, even of the '48 War.
After the declassification of documents showing that there were expulsions of Arabs, that fact worked its way into some Israeli textbooks at the university level, and then also at the secondary school level, to an extent. I think Israelis have come to see that there were such expulsions, and there were injustices, but that has not overcome the sense of great pride and accomplishment in creating the state through that war of independence.
And there are some Palestinians who see Jewish victimhood. But when they speak publicly about it, they get themselves into trouble. There was a professor at Al-Quds University in Jerusalem who used to teach a course on the Holocaust to Palestinian college students, and he actually took them to visit Auschwitz.
And he got them to see Jews as victims and understand the historical roots of their arrival in this place, this Holy Land. And what happened to him? He was threatened, and ultimately, he was fired.
So the obstacles to seeing the other and recognizing what the other has gone through are immense. They're immense. So we have here a conflict between two peoples who are victims of each other, but not only of each other, also of the larger world.
Right. And in this case, how you understand the conflict and how you understand the whole question of victimhood depends very much on where you start the clock, where you think the story begins.
Exactly right.
David, thank you very much. We really appreciate it.
Thanks for listening.
Here's what else you need to know today. Sam Bankman-Fried, the founder of the doomed cryptocurrency exchange FTX, was convicted on all charges of fraud and conspiracy on Thursday after a month-long trial that exposed the hubris and risk-taking across the crypto industry. The conviction puts Bankman-Fried in league with the biggest financial fraudsters in history. Overall, his victims lost nearly $10 billion in funds, and he now faces a sentence of up to 110 years in prison.
And on Thursday, the Israeli military said it had encircled Gaza City and was waging close-quarters combat with Hamas as they pushed forward with what Israeli officials have predicted will be a long and bloody ground invasion. Meanwhile —
Good morning from Rafah. I just arrived to the crossing. They're going to start calling people. I know my name is on the list, but I don't know when I will enter.
The evacuation of foreign nationals and wounded Palestinians from Gaza into Egypt entered its second day on Thursday. Among those leaving was Wafa Al-Saqqa, the subject of a "Daily" Episode on October 16. When the war broke out, Al-Saqqa, an American citizen who had grown up in Gaza, became trapped in Gaza where she was visiting family.
(CRYING) I'm glad that I'm going to go and meet with my grandson and my husband and my boys and their wives. So —
At 1:30 PM local time on Thursday, she crossed into Egypt, then boarded a minivan, with other Americans, bound for Cairo.
(CRYING) I don't know how I feel. I left my whole family behind. Needed my help, but I couldn't help them. But I need to go to my other family, too. I don't know why we have to choose.
Today's episode was produced by Will Reid and Rikki Novetsky with help from Rob Szypko. It was edited by Paige Cowett, with help from Lisa Chow, fact-checked by Susan Lee, contains original music by Elisheba Ittoop, Dan Powell, Marion Lozano, and Sophia Lanman, and was engineered by Chris Wood.
Our theme music is by Jim Brunberg and Ben Landsverk of Wonderly. Special thanks to Serge Schmemann, Jodi Rudoren, Steven Erlanger, and Clyde Haberman.
That's it for "The Daily." I'm Michael Barbaro. See you on Monday.
November 3, 2023   •   44:16 1948
November 2, 2023   •   25:41 The Many Missed Warnings Before Maine's Mass Shooting
November 1, 2023   •   34:20 Lessons From an Unending Conflict
October 31, 2023   •   22:01 A Historic Strike (and Win) for Autoworkers
October 30, 2023   •   23:22 Israel's Invasion Begins
October 29, 2023   •   55:00 The Sunday Read: 'Who Hired the Hitmen to Silence Zitácuaro?'
October 27, 2023   •   23:30 A New Threat: Surprise Hurricanes
October 26, 2023   •   30:49 The House Finally Has a Speaker
October 25, 2023   •   28:55 Why Israel Is Delaying the Ground Invasion
October 24, 2023   •   25:23 The Lawyers Now Turning on Trump
October 23, 2023   •   25:14 The Problem With a $2 Trillion Deficit
October 22, 2023   •   52:34 The Sunday Read: 'The Genius Behind Hollywood's Most Indelible Sets'
Hosted by Michael Barbaro
Produced by Will Reid and Rikki Novetsky
With Rob Szypko
Edited by Paige Cowett and Lisa Chow
Original music by Elisheba Ittoop ,  Dan Powell ,  Marion Lozano and Sophia Lanman
Engineered by Chris Wood
Listen and follow The Daily Apple Podcasts | Spotify | Amazon Music
As the Israeli-Palestinian conflict enters its darkest chapter in decades, both sides are evoking the same foundational moment in their past: the events of 1948.
David K. Shipler, a former Jerusalem bureau chief for The New York Times and the author of a Pulitzer Prize-winning book about the conflict, discusses the meaning and reality of what happened that year.
On today's episode
David K. Shipler, author of "Arab and Jew: Wounded Spirits in a Promised Land."
Background reading
Recent violence in an Israeli town carries bitter echoes of the past for Palestinians .
From the archive: Israel declares independence on May 14, 1948.
There are a lot of ways to listen to The Daily. Here's how.
We aim to make transcripts available the next workday after an episode's publication. You can find them at the top of the page.
David K. Shipler contributed reporting.
Fact-checking Susan Lee .
Special thanks to Serge Schmemann , Jodi Rudoren , Steven Erlanger and Clyde Haberman .
The Daily is made by Rachel Quester, Lynsea Garrison, Clare Toeniskoetter, Paige Cowett, Michael Simon Johnson, Brad Fisher, Chris Wood, Jessica Cheung, Stella Tan, Alexandra Leigh Young, Lisa Chow, Eric Krupke, Marc Georges, Luke Vander Ploeg, M.J. Davis Lin, Dan Powell, Sydney Harper, Mike Benoist, Liz O. Baylen, Asthaa Chaturvedi, Rachelle Bonja, Diana Nguyen, Marion Lozano, Corey Schreppel, Rob Szypko, Elisheba Ittoop, Mooj Zadie, Patricia Willens, Rowan Niemisto, Jody Becker, Rikki Novetsky, John Ketchum, Nina Feldman, Will Reid, Carlos Prieto, Ben Calhoun, Susan Lee, Lexie Diao, Mary Wilson, Alex Stern, Dan Farrell, Sophia Lanman, Shannon Lin, Diane Wong, Devon Taylor, Alyssa Moxley, Summer Thomad, Olivia Natt, Daniel Ramirez and Brendan Klinkenberg.
Our theme music is by Jim Brunberg and Ben Landsverk of Wonderly. Special thanks to Sam Dolnick, Paula Szuchman, Lisa Tobin, Larissa Anderson, Julia Simon, Sofia Milan, Mahima Chablani, Elizabeth Davis-Moorer, Jeffrey Miranda, Renan Borelli, Maddy Masiello, Isabella Anderson and Nina Lassam.
Advertisement